EMIRATES BRINGS BACK THE A380 TO SIX DESTINATIONS
Being the world largest operator of A380 and having 114 of them on the fleet almost 50% of their 255 aircraft, the rest being B777, this had to happen sooner or later. Big jets are under siege after the total grounding sue to the pandemic, Boeing just announced the end of production for the iconic 747 Queen Of The Skies, and many airlines have retired, or mothballed their gigantic Airbus A380 and B747 aircraft. With hardly anyone traveling, let alone flying, there just is not enough demand to justify two decks, unless of course, you are Emirates.
Emirates has just deployed the A380 to 6 destinations ion their network. While airlines scramble to fill planes of any size, Emirates is rolling its biggest birds out to markets all over the world. As of August 16th, the Emirates A380 will begin service to Toronto, adding a North American gateway to the list of current A380 flights including Cairo, London, Paris, Guangzhou, and Amsterdam.
As of August 2020, Emirates is serving 70 overall destinations, which represents circa 50% of its pre-pandemic network. The move is in stark contrast to other airlines, many of which have permanently retired the A380, including Air France. Lufthansa also sent six A380's into retirement.
Qatar Airways recently announced flying the A380 "is not commercially or environmentally justifiable to operate such a large aircraft in the current market", after noting the airline had no plans to bring the aircraft back in service in 2020, or perhaps ever.
Well I guess for Emirates it's a different story, when you have 40% of your fleet made of A380 it's not long-term financially viable keeping them on the ground as the pressure to start operating them due to some very compelling logistics and financially reason mounts. Just for a matter of comparison, Singapore Airlines is the second-largest operator of A380 with 24 aircraft of which only 19 were operating pre-pandemic.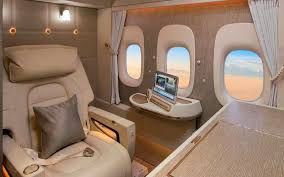 Emirates A380's offer the state of art private First-Class suites with doors, the airlines also offer one of the best business class seats in the world, and some of the widest seats, with the most legroom in economy. The downside for First Class users is that the bar upstairs and First-Class showers, two unique products of the Emirates A380, are closed for social distancing.
Emirates is enjoying a successful re-launch after the temporary grounding of its entire fleet which slowly brings passengers back in the sky. Emirates focus on safety is high on the agenda as it should be. Emirates now requires all passengers to present a recent negative COVID-19 test pre-departure, this coupled with Dubai mandatory tests, even for transit passengers, makes Emirate one of the preferred choices for people to start flying again.
The biggest gimmick is that all passengers receive complimentary COVID-19 coverage, which covers up to €150,000 in expenses, including medical care and repatriation if you catch COVID-19 abroad within 31 days of your departing Emirates flight. The coverage applies even to destinations onward from where your Emirates flights lands, which I must say its quite impressive.
Meantime a number of Emirates B777-300, have been modified to offer greater cargo capacity and this may stay on for a while therefore any move to add the A380 is a clear sign that passenger demand is actually returning, and not just empty hope. As country restrictions begin to lift and more robust and uniform testing measures are put in place at airports around the globe, Emirates is in a strong position to win flyers back.
Stay well,
Joe