Test Wait Times And Isolation Cancel 80 Sydney Flights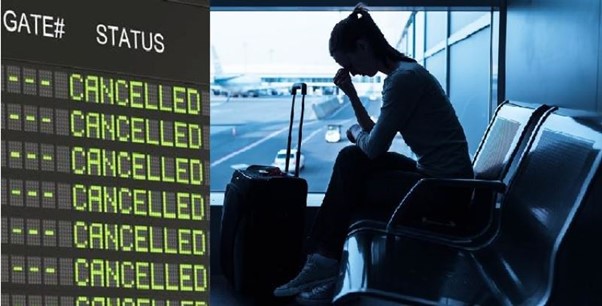 Australians face the possibility of missing out on their summer vacations because of long delays in COVID testing.
In addition to many other states, the Northern Territory, Queensland, and Tasmania need a PCR test 72 hours before departure for passengers from "high risk" locations. Queues are long, and results sometimes take days to process due to an increase in Omicron cases.
As a result of the testing chaos, flight crews have been compelled to isolate, resulting in cancellations or delays eighty Sydney departing and arriving flights.
According to Jetstar, many of their frontline staff are required to test and isolate as close contacts due to an increasing number of cases in the general community. As a result, the airline had to make late adjustments to its schedule.
Because many of our customers are travelling for the holidays, we sincerely apologise for any inconvenience this may create.
All Jetstar and Qantas flights are being rescheduled to depart close to their original departure schedules to keep passengers as comfortable as possible during any delays.
Virgin apologised for any inconvenience caused by the changes, although hundreds of services were running normally.
It's been a week since 25,355 people are positive in NSW, with 164,000 tests being performed on Thursday alone, according to 9 News, while residents of Adelaide have been waiting more than nine hours to administer the procedure.
Premier Scott Morrison urged states to relax their rules to free up resources for symptomatic and their close family and friends.
"We've all seen the terrible queues and the long waits people have had," Morrison said after Wednesday's national cabinet meeting.
"Some 20 to 25 per cent of those people waiting are not symptomatic; they're not close or casual contact. They want to travel to another state.
"This is putting unnecessary pressure on the system."
For interstate travel, Morrison said that there was a "very good discussion" at the national cabinet on testing requirements, including the possibility of accepting rapid antigen testing (RAT) rather than PCR tests, but no adjustments have been agreed upon. Even so, SA has abandoned its mandate entirely.
"There was a positive discussion, and the medical expert panel will give further advice on whether testing is required at all for travel, or if we can move to the simpler measure of RAT which will reduce those queues," he said.
Even though only 10% of tests conducted across the country are for interstate travel, Queensland Premier Annastacia Palaszczuk has indicated that her state won't reduce its testing requirements for new entrants to Queensland.
If the Australian Health Protection Principal Committee (AHPPC) agrees to accept quick antigen testing as an option, the Palaszczuk's administration will consider accepting it.
"We are happy to get some further advice from AHPPC about rapid antigen tests. If this is approved, we may legalise them in the new year from 1 January, but between now and the new year, we will require those PCR tests for people coming into our state," she said.
"Tourist testing is putting too much burden on lab capacity", according to NSW Health Minister Brad Hazzard.
"Tourism tests are interfering with the treatment of patients and the achievement of clinical outcomes," he said.
In Victoria, COVID response commander Jeroen Weimar claimed that more than a quarter of all PCR tests conducted were for interstate travel and said the system was becoming clogged up over a "bureaucratic reason".
"It is not an efficient use of PCR testing systems," he said. "as a result, we're witnessing longer lines and longer wait times right now. We hope to move to a more sensible arrangement in the very near future."
Source: Australian Aviation