Travelling In Europe with An Australian Vaccination Certificate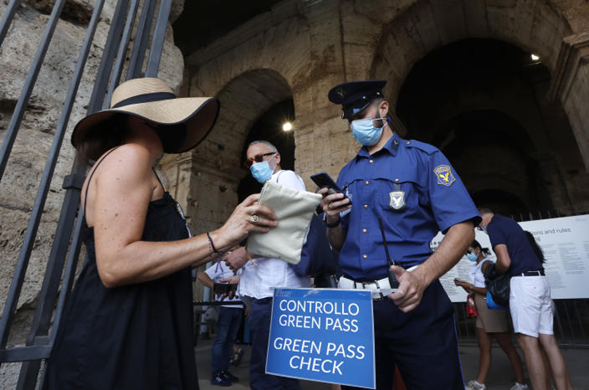 Are you planning a trip to Europe this northern summer? Visiting the wineries of France's Bordeaux region, or spending a week seeing the Italian lakes or perhaps visiting the riviera? Many of us are; however, for the time being, some Australians are having difficulty navigating Europe's ever-changing COVID-19 passport rules.
This is because Australia has an International COVID-19 Vaccination Certificate (ICVC). That confirms you're completely vaccinated, which is all you need to enter Spain, Germany, or any other European country. Still, it won't get you into Museums, a seat in a restaurant in many parts of Europe, or a train from Venice to Vienna. You'll need a local health pass or, better yet, the European Digital COVID Certificate (EU DCC), which isn't an option for Australian visitors. However, there are a handful of workarounds for this daunting problem.
Proof of vaccination in Italy
Italy is one of the countries that accept Australia's ICVC. Not precisely, but according to a statement from Italy's Ministry of Foreign Affairs and International Cooperation, "all other foreign individuals vaccinated abroad with the mentioned vaccines are permitted to access all venues and services for which a Green Pass is mandatory in Italy." The list of eligible vaccinations includes those approved by the EMA, so if you were vaccinated in Australia, you are once again on the right track.
It is important to note that, unlike the Swiss, the Italian health authorities are not issuing you an Italian Green Pass, which would entitle you to admission to any European country that requires proof of vaccination. Still, in Italy, you have all the rights that apply to the country's Green Pass holders.
Because a Green Pass is necessary for inter-regional rail services, there's a strong chance the waiter at the restaurant where you want to eat won't know, nor will the station attendant at the local train station. As a result, you'd need to bring a printed copy of the ministry's directive in both Italian and English, as well as the URL of the ministry's website loaded on your smartphone.
The Swiss pass
Like the majority of European countries, Switzerland has its COVID certificate, which is required for anybody over the age of 16 to enter galleries and museums, gyms, indoor restaurants, pubs, and just about any other public indoor venue. Except for France, the Swiss version is readily available to international travellers vaccinated with an approved vaccination, and all vaccines provided in Australia qualify.
But why would you want a Swiss Pass if you're not planning on visiting Switzerland?
Because the Swiss COVID certificate is compatible with the EUDCC, it allows for free travel throughout the EU and Schengen area nations and third-country connections via the EU gateway, such as North Macedonia, Turkey and Ukraine. You're set to go if your vaccine is on the list approved by the European Medicines Agency (EMA), which includes Cominarty (Pfizer), Vaxzevria (AstraZeneca), and Spikevax (Moderna).
The assumption here is that you intend to visit Switzerland. The online application form asks for your arrival date and where you'll be staying, and you'll need documentation. Still, some applicants say it's simple to avoid this difficulty if you don't intend to enter the nation. For example, making a hotel reservation in Switzerland using an online travel service that does not demand an upfront deposit and then cancelling the reservation after the certificate is issued. The Swiss authorities would undoubtedly be aware of this. Still, because they've chosen to monetise their COVID certificate for a processing fee of 30 Swiss francs ($A45.50), they may be ignoring the loophole, and the applicant's burden of proof is reasonably stringent, with severe penalties for forgeries, so no harm done.
The pass is available in English and one other major European language that you can specify on your application. The processing time ranges from 2 to 5 days.
The platform for applying for the Swiss National COVID certificate can be accessed here: https://www.covidcertificate-form.admin.ch/foreign
French health pass
If you're considering a trip to France and possibly other European countries, France should be at the top of your list.
When it opened online applications in 2020, France became the first European country to allow anyone who has been vaccinated elsewhere to apply for a French health permit. That was designed for visitors to utilise and to help boost the tourism business of one of the world's most visited countries, but there was no proof of intent to visit France necessary, it was free to apply, and the scheme has now been abandoned.
The health pass is now accessible in pharmacies around the country. Over 3000 pharmacies in France have been authorised to offer qualified foreigners a vaccination equivalency health permit. You must bring your passport and a physical copy of the original immunisation certificate to the pharmacy, and the ICVC will do the rest. Depending on the drugstore, the cost is €36 or less.
The pass is available in digital format and can be stored in France's TousAntiCovid app, which is accepted throughout the EU and in EU gateway countries. The Sante.fr website [sante.fr/how-to-obtain-a-french-health-pass] contains a complete list of all qualifying pharmacies.
Since December 15, 2021, people aged 65 and up who finished their initial vaccinations more than seven months ago have been obliged to show documentation of a booster dosage to acquire their French vaccine equivalency health permit.
Source: Australian Traveller