MSC Set To Launch Giant New Cruise Ship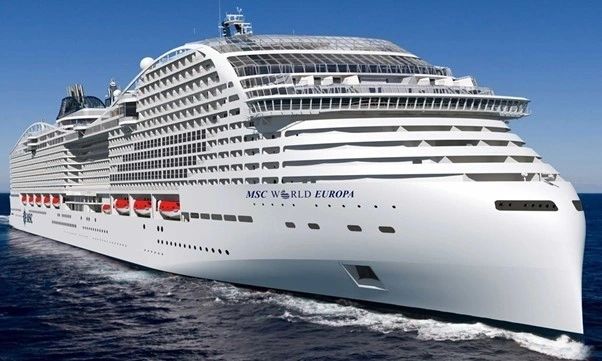 MSC Cruises is preparing to launch the massive new vessel it has on order for delivery in late 2022, MSC World Europa would be 22 decks high, four decks higher than the current size leader in the cruise world, Royal Caribbean's Symphony of the Seas.
It will also be 1,093 feet long, making it longer than any other MSC Cruises vessel ever built.
Still, it will not quite top Symphony of the Seas as the world's biggest cruise ship. Symphony of the Seas and its three sister vessels — Oasis of the Seas, Allure of the Seas and Harmony of the Seas — will remain the queens of the mega-ship world thanks to greater lengths and widths.
In all, MSC World Europa will measure about 205,000 tons — about 10% less than the four Royal Caribbean ships, known as the Oasis Class. It will have 22 decks, 6 pools and a record-breaking slide
Like the Oasis Class ships, MSC World Europa will be able to hold nearly 7,000 passengers with all berths filled — 6,762 to be exact.
In addition to fleshing out details about the ship's size, MSC Cruises on Monday unveiled more specifics about what passengers can expect onboard the vessel. The announcement came as MSC Cruises opened bookings for the ship's initial sailings in December of 2022.
MSC Cruises is taking a page from Royal Caribbean's playbook by breaking down the public areas of MSC World Europa into distinct districts.
MSC Cruises said MSC World Europa would have an adults-only "Zen district" and a separate "family district" that houses as many as 10 new kids' facilities. There also will be a central interior promenade with entertainment, shops, and bars.
The public areas of Royal Caribbean's Oasis Class ships famously are broken down into seven separate districts, which Royal Caribbean calls neighbourhoods.
Notably, the promenade on MSC World Europa will measure 341 feet long and will be half-open to the sky and half-covered by an LED "sky screen" that will light up with different displays throughout the day.
One of the signature features of the promenade will be The Spiral, a record-breaking dry slide that plunges 11 decks from near the top of the ship to the promenade area.
MSC Cruises has confirmed that MSC World Europa would have six pools and 14 hot tubs, making it one of the most pool-covered ships at sea.
The watery offerings will include an Aquapark with multiple waterslides that MSC Cruises said would integrate virtual reality technology. There also will be a family sundeck.
The ship will have 13 dining venues, including six specialty restaurants.
Two new-for-the-line venues will be Chef's Garden Kitchen (an outlet focused on microgreens), and La Pescaderia, a traditional seafood grill with alfresco seating.
Restaurants that already exist on other MSC Cruises ships that will be on MSC World Europa, too, include the American-style steakhouse Butcher's Cut; the Asian-inspired Kaito Teppanyaki Grill and Sushi Bar; and Latin American street food-inspired Hola! Tacos and Cantina.
In a twist, the ship will have three separate buffet restaurants as well, each with its own ambience.
MSC World Europa also will have a craft beer bar serving beer made onboard — a first for MSC Cruises. Dubbed Masters of the Sea Pub, it will span two decks.
Other drinking venues will include a cocktail bar called Elixir – Mixology Bar; a South Asian-style tearoom filled with perfumes from the East; and a widely stocked Gin Bar.
MSC World Europa will offer 19 different types of cabins — seven of which are new for the line.
Among them: Cabins and suites with balconies that overlook the ship's interior promenade, and giant duplex MSC Yacht Club suites with living and dining room areas.
In addition, the ship will have the first "infinite ocean view" cabins with walls of glass facing the sea that open from the top down to create a balcony-like effect. It's a concept that first debuted on an ocean ship in 2018 on Celebrity Cruises' 2,908-passenger Celebrity Edge.
MSC Cruises revealed that MSC World Europa would debut in December 2022 in the Middle East with sailings that include a visit to Saudi Arabia — a destination rarely visited by cruise ships.
The vessel initially will sail a one-off, four-night sailing from Doha, Qatar, to Dubai before beginning a regular series of seven-night voyages from Dubai. The seven-night voyages will feature calls at Abu Dhabi; Dammam, Saudi Arabia; and Doha.
Departing Dubai on March 25, 2023, MSC World Europa will reposition to the Mediterranean for a series of seven-night voyages to ports in Italy, France, Malta, and Spain.
By Joe Cusmano