It's Rex vs. Qantas on the Sydney-Broken Hill Route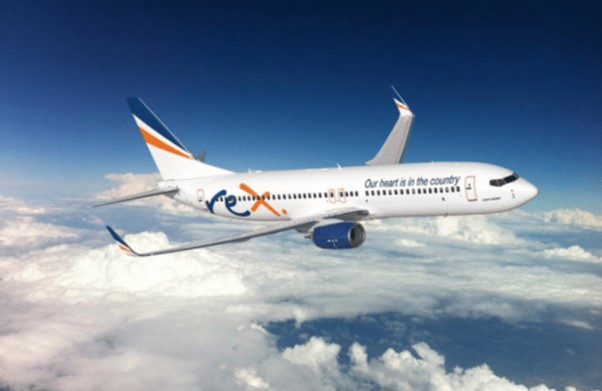 For 18 years, Rex has been the sole operator of Sydney-to-Broken Hill flights. Now, Qantas has announced that it would shortly begin flying two weekly return flights on the same route, putting Rex to the test.
Sydney-Broken Hill services have been monopolised by Rex since 2004, with daily return flights on its 36-seat Saab 340 aircraft and one return service on weekends.
QantasLink, with its fleet of 50-seat Dash 8 Q300 aircraft, will end Rex's exclusive reign on the route on Friday, April 8th, when it launches twice-weekly return flights on Mondays and Fridays.
Rex deputy chairman John Sharp said in an interview with ABC Radio on Tuesday that Qantas was "swamping" the market unnecessarily, but Rex is ready to alter its operations to compete.
"We are constantly looking at the schedule and trying to adjust to suit the market conditions and we will obviously keep doing that.
"I mean [Qantas' entrance] will impact on what we do in some form or another; We'll probably shift schedules around a little bit to try and be even more competitive with Qantas and try and match whatever they're doing and do it better and cheaper for the passengers."
On the Broken Hill route, Sharp claimed that Qantas was only making the move to "retaliate" against the planned expansion of Rex into capital city markets in late 2020.
"They don't like that, and they've made lots of complaints to people about our behaviour in moving into that market. So, in retaliation, they've been moving into our regional market," Sharp said.
In pre-COVID times, 28,000 passengers flew between Sydney and Broken Hill each year, but since the pandemic started, that number has dropped to less than 9,000.
"Qantas' announcement yesterday means that they're putting 10,000 seats into the market, where there's currently only 8,000 or 9,000 passengers," Sharp explained.
"They are swamping the market and the question is whether they'll hang in there and keep offering the service, or whether after a short period of time, when they're satisfied that they've given Rex a good punch in the nose, then they'll walk away from it."
This means that both airlines will lose money on the Broken Hill service because there will be considerably more seats available than demand requires.
"You've got to think that we've been doing this by ourselves to Broken Hill for 18 years since Horizon stopped flying, and Qantas has had all those years to come and fly and operate into Broken Hill, but they've chosen not to," he said.
"Because they know they'll never make money out of it with two operators."
Meanwhile, announcing the decision to expand into Sydney-Broken Hill, QantasLink CEO John Gissing said the service will offer greater connection between urban and rural NSW.
"We are constantly looking for new opportunities to stimulate domestic tourism and support small business operators across regional Australia," he said.
Due to current demand, Rex currently flies its Sydney-Broken Hill flights via Dubbo; however, it plans to resume daily direct flights by the end of March.
Since Qantas CEO Alan Joyce mocked Rex for its "empty aircraft," Rex deputy chairman John Sharp has said he doesn't know how the CEO can look at himself in the mirror some mornings, the two companies have been at odds over network expansion.
Source: Australian Aviation