Happy 1st Birthday Stray Nomad…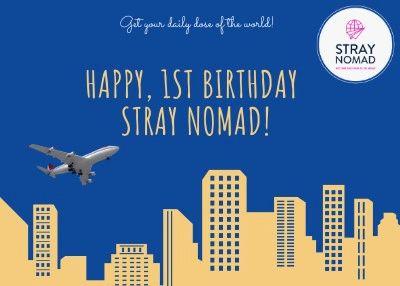 Last year today I launched my travel blog with the intention of continue doing what I love most in life, travelling to provide my travel advices, product updates and tips. I was also aiming to provide all my followers with some of the best airfares, cruises and holiday' deals.
Being not very mobile due to progressing MS, I also intended to share all the information's concerning accessibility of the airlines, airports, destinations, hotels, and facilities that I was going to visit.
Little did I know that the world was about to enter the unpreceded darkness of the Covid-19 pandemic and that travel and life in general was going to take a completely different turn!
On January 25, Australia reported its first Covid-19 case, and the community transmission grew from there on until on March 25, Australia closed its international borders and no flights in and out were permitted. Many individual states and territories also closed their borders to varying degrees, with some remaining closed until late 2020 making it difficult also for domestic travel.
Social distancing rules were imposed on 21 March, and state governments started to close "non-essential" services. Non-essential services included social gathering venues such as pubs and clubs but unlike many other countries did not include most business operations such as construction, manufacturing, and many retail categories. The number of new cases initially grew sharply, then levelled out at about 350 per day around 22 March and started falling at the beginning of April to under 20 cases per day by the end of the month.
Life changed for everyone and all my travel plans went to disarray, and I was facing a totally different reality than what I was envisaging. I started thinking what to do with my blog and I thought of one lesson that one of my mentors taught me when I was a young manager, 'never waste a good crisis to reinvent yourself'! After drifting like everyone else through the initial storm, I chose to change my trajectory and cover news of the industry I most love and how the pandemic was affecting it and changing it, provide my views and analysis and my tips and suggestions wherever I could.
Up until today I have published over 250 stories, with about 55% of them written by me and 45% edited by me. I always aim to insert my insight in my stories, especially if they are about airlines product and news.
From 22 February I will start studying for my degree and I am planning to devote time to the blog and continue what I have done until now.
Once travel restarts safely and I am vaccinated, my aim is to travel and revert to my initial scope, however this past year has also taught me that news is important and therefore I am to keep sharing it with you as I do today.
Thank you for your support and I look forward to your continued encouragement in the years to come.
Happy Birthday Stray Nomad!