Cruise ship ban extended to 2022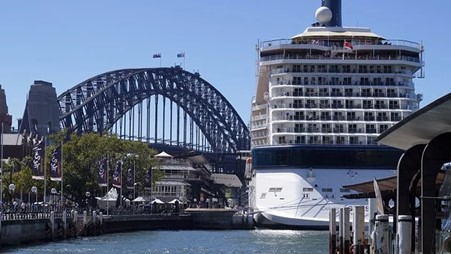 The cruise industry in Australia has taken another blow as Saturday, Australia extended its ban on cruise vessels entering the country, according to a statement by the country's Health Minister Greg Hunt.
The Biosecurity Act of 2015's emergency timeframe for human biosecurity has been extended by Health Minister Greg Hunt. With the agreement in effect since March 18, 2020, it has now been extended until February 17, 2022 "by the Australian Health Protection Principal Committee and the Commonwealth Chief Medical Officer's medical and epidemiological opinion.
As the government continues to reopen Australia and take serious action against the Omicron variant, "continuation of these measures will allow the critical measures currently in place to continue," Hunt said.
There are now four emergency requirements in place as a result of the new policy. As long as medical advice supports reversing the decision, it will stand. Limits on overseas travel from high-risk nations, restrictions on unvaccinated Australians, and restrictions on the entry of cruise ships into Australian territory are among the measures taken by the government.
"The Government continues to work constructively with the cruise ship industry…to enable a phased resumption of cruising in Australia on the basis of medical advice," Hunt said.
Cruise ship executives have called the decision to extend a vessel ban for the next two months as a "devastating blow" to thousands of Australians.
During its final meeting of the year, the National Cabinet decided on the move.
According to Joel Katz, Managing Director of the Cruise Lines International Association, Australia is the only market in the world without an agreed-upon plan to resume cruising.
The cruise ship embargo would remain in effect until February 17, dashing hopes that the industry will reopen in time for the summer.
Source: Link