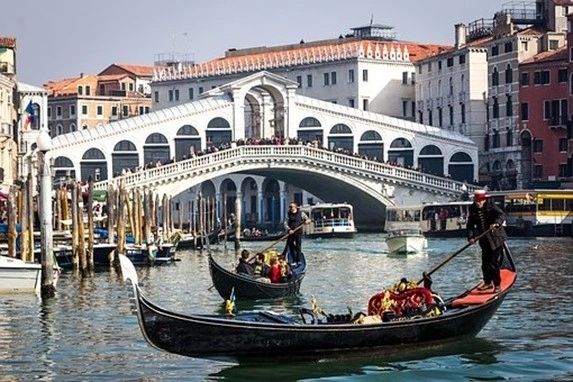 Venice has long been compared to a "real-life amusement park" that is free to enter. The much-discussed day-tripper tax to enter Venice takes effect in January 2023. To visit Venice's ancient Italian lagoon city, all visitors must make reservations and pay a fee.
Tourists frequently outnumber inhabitants in the city's historic centre, clogging narrow streets and heavily used canal footbridges.
Starting on 16 January 2023, non-hotel guests will be taxed between €3 and €10 ($4.50-$15) per person, depending on the time of year, peak season, and how crowded the city is. Those who prefer to stay in hotels will not be charged this price.
Violators who are unable to show that they booked and paid using a QR Code may face fines of up to €300 (about $450).
According to statistics, most visitors to Venice only stay for one or two days. Even though tourism to Venice had peaked just a year before the pandemic, day-trippers accounted for only a small portion of the city's total profits, with 19 million people visiting the city in 2019.
There is no evidence that Venice's tourism commissioner is concerned about limiting foreign visitors.
The cut-off numbers will not be debated. "There are incentives and disincentives at stake," Simone Venturini noted.
The reservation-and-fee concept was considered a few years ago, but it was put on hold during the pandemic (and officially announced in late 2019). As a result of COVID-19 travel restrictions, Venice was virtually deserted by tourists for the first time in decades.
Mass tourism began to develop in the mid-1960s. More tourists came, but fewer Venetians stayed, driven out by traffic, increased food and other needs expenses in a carless city, and more frequent flooding that damaged people's buildings.
Hotel and pension visitors are exempt from the reserve-and-fee requirement because they already pay a lodging tax.
The new Venice law aims to "simplify for visitors" in order to create "this equilibrium between (Venetian) citizens and long-term and short-term" visitors, according to Venturini. He claimed that Venice was the first city in the world to introduce such a plan for short-term visitors.
A tourism body hopes that the new fee-and-reservation requirement will "reduce frictions between day travellers and residents." In a city with a 5-square-kilometre size, tourists can outnumber residents 2-to-1 in a peak tourism system.
Venice has a population of only 50,000 people, which is a fraction of what it was a decade ago.
Children under the age of six, people with disabilities, and Venice vacation apartment owners who can show proof of real estate tax payment are free from day-tripper fees in this area.
When cruise ships disembark day-trippers for a few hours, they add to the crowds that crowd Venice's small streets, particularly near St. Mark's Square. Unless the cruise operator pays a set amount to Venice, these guests must also pay.