The US suspends 44 Chinese Airline Flights To China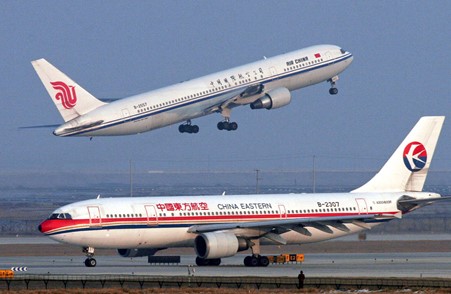 The latest escalation in a spat over pandemic travel rules between the United States and China has resulted in the suspension of more than 30 flights operated by Chinese carriers over the next few months.
The US Department of Transportation plans to halt 44 flights operated by Chinese carriers from the US to China between late January and March.
In reaction to steps taken by Chinese aviation authorities that prompted US airlines to cancel the same number of flights, the US Transportation Department has issued an order that applies to flights operated by Air China, China Eastern Airlines, China Southern Airlines, and Xiamen Airlines.
The Civil Aviation Administration of China has enforced a "circuit breaker" restriction to international flights, which has resulted in several cancellations of flights from the United States to China in recent weeks. If five or more passengers test positive on a flight to China, the flight will be grounded for two weeks, and the suspension duration increases if ten or more passengers are infected.
Chinese authorities have defended its "circuit-breaker" restrictions as an "essential step" to limit the possibility of epidemics spreading across international borders.
It is challenging to fly to China from America because of the Omicron version of the coronavirus, which has spread widely, and Beijing's aim to prevent outbreaks ahead of the 2022 Winter Olympics. A CNN Business investigation of government announcements and published flight schedules earlier this month revealed that it was virtually impossible to find a flight from the United States to China due to Chinese aviation regulations.
Several US airlines were impacted by the "circuit-breaker" rule, including American Airlines, Delta Air Lines, and United Airlines.
The "circuit-breaker" can apply to people who test negative before boarding the plane but then test positive for Covid-19 up to seven days after they arrive," the US Department of Transportation claimed.
Each prospective visitor to China is individually cleared by the Chinese government "before they depart from the United States, after verifying pre-departure test results and other required documentation," the transportation department wrote, adding that US carriers who follow Chinese regulations "should not be penalised if passengers test positive for Covid-19" upon arrival in the country.
The US move was dubbed "an act of rudeness and irresponsibility" by China's Ministry of Foreign Affairs.
He added that the "circuit-breaker" procedures used by the Chinese government are "fair, open and transparent" and that they treat both domestic and international airlines equally.
In Beijing, he claimed that the restrictions had played an essential role in "successfully" stopping the spread of the virus across the border.
Since the beginning of 2020, China has largely closed its borders and has been steadfast in its zero-Covid policy. Even as international travel has begun to rebound in other areas of the world, flights to and from China — the world's second-largest air travel market after the United States — have been substantially reduced.
According to the airline, a Delta flight from Seattle to Shanghai was forced to turn around mid-flight last month due to a change in Chinese airport cleaning standards that "substantially lengthened ground time and are not operationally viable," according to the airline. Chinese officials said that carriers should "defend customers' legitimate rights," Chinese officials said, disputing the allegation.
To ensure a tight security perimeter surrounding the Winter Olympics in Beijing, which begin on the 4th of February, athletes will be required to fly in on specially designated planes that are only open to those possessing Olympic credentials.
Source:  CNN