Rex Ready To Launch Frequent Flyer Program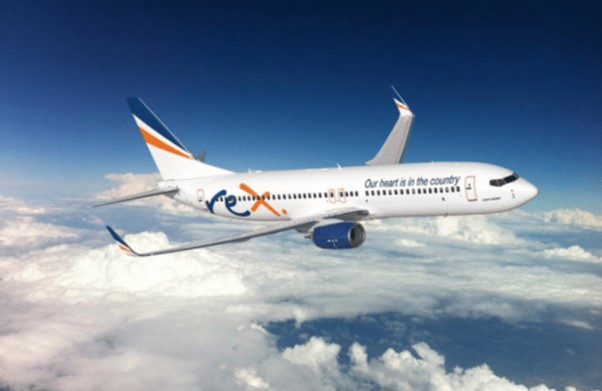 Rex is launching its loyalty programme later this year to compete with Qantas and Virgin Australia.
Statements made by REX, which cited "a favourable view" on revenue and traffic in 2022, stated that "the launch of our Frequent Flyer programme in the coming months" will "further bolster" those results.
The Regional Express Boeing 737 intercity network will also be expanded. The company plans to add a seventh plane to its fleet "later this month" and is in advanced talks to lease two more later this year, a 33% increase in the current six-strong fleet.
As of March 20, 2021, Rex will be Australia's third national carrier, largely thanks to the airline's Frequent Flyer programme.
An additional regional network is provided by Saab 340 turboprops, which connect Sydney, Melbourne, Canberra and Brisbane, as well as Adelaide and the Gold Coast.
For the airline, the launch of the Rex Frequent Flyer programme will be a "strategic milestone" in the next three to four years, after which the company expects to reach a market capitalisation of $5 billion, according to Executive Traveller.
Regional Express had a straightforward reward programme called Rex Flyer before its move into the jet era: take nine paid flights and get one free.
In theory, Rex Flyer's new points-based system will be based on the type and value of a ticket purchased.
It's unclear if the airline's most frequent fliers will have access to lounges and upgrades as a result of the new programme, which may involve some status credits.
Travellers with an ABN can join the airline's Business Flyer programme, which is still functioning and costs $99 for a two-year subscription.
Each time a Regional Express booking is made using the business's Rex Business Flyer membership number, the company receives one point. This feature is available to both the business owner and staff.
The company receives two Reward Flights after earning 18 points over two years. These can be used by anybody, not only the company's owners or employees, and are suitable for any seat on any Rex aircraft during the next six months.
On the other hand, the Rex Frequent Flyer programme will have to fight for its place in a loyalty market dominated by two well-known players.
Nearly 14 million people are part of the massive Qantas Frequent Flyer programme, many of which are devoted supporters of the Flying Kangaroo.
The Velocity Frequent Flyer programme of Virgin Australia, which competes with Qantas, boasts approximately 11 million members; however, there is some overlap between the two programmes due to travellers who maintain membership and status in both.
Perks associated with frequent flyer programmes often cover everything from first-class check-in and baggage handling to a higher luggage allowance and access to airport lounges.
Additionally, Regional Express will have a "unique potential to be different from the competitor's frequent flyer model and provide real competition to the domestic market" by creating an entirely new programme.