Not Bringing Back The A380 is Crazy, Says Emirates Chief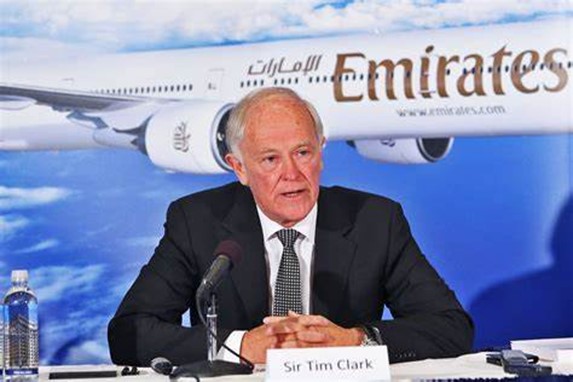 It would be a mistake for airlines not to bring back the A380, argues Emirates CEO Sir Tim Clark in an interview with Airline Ratings.
Following the recent return of the A380, Mr Clark was asked about his thoughts on the surprising return of the aircraft and whether this unexpected comeback will endure.
According to Clark, these planes will be brought back since demand is so high right now, and the A380s will come into their own in the following 18 months or two years where they can fly them.
As a result of the increased demand, more airlines will bring back their A380s, as "they'd be nuts not to." The costs are so much higher than they used to be. The passenger mix has shifted to include a more significant proportion of high-end business travellers, proving that individuals are still willing to travel despite popular belief.
Clark added, "Alan Joyce of Qantas told me that of all Australians surveyed, 60 per cent of them stated they would leave Australia the moment they could go, which makes around 14 million people. In addition to this, many more people would like to visit Australia and New Zealand.
Emirates, according to Clark, is seeing significant demand for its premium cabin even though it has not yet returned to key countries like China and India, both of which continue to place stringent restrictions on travel. As seat per kilometre rises by 30-40%, customers are willing to pay more for premium cabins and even economy class.
That's fantastic news for Emirates since they're bringing back their entire network with a massive A380-dominated fleet, but other airlines have said they'll leave their A380s grounded indefinitely. For the time being, Emirates' primary concern is getting its crew back, and Clark predicts that this will take until June 2022 or later.
Clark said that the cargo market is solid and would remain so for the foreseeable future. Several B777s operated by Emirates have been converted to freighters. Clark claimed that they could use the whole fleet of B777 freighters, which he estimated to be over 160 aircraft. The cargo business has grown dramatically compared it to pre-pandemic. The global lack of ship containers is one of the factors contributing to the rapid expansion. The ships exist, but the containers do not. As a result, the need for air freight has expanded as a means of transport for manufacturers.
Clark noted that Emirates is also accomplishing the financial targets as last week they broke even; it was the first time since the pandemic started that Emirates went to profit and are now cash positive with 95 A380s still sitting on the ground.
Since July of last year, the passenger market in Dubai has recovered, and the city has been a popular destination for tourists. In the past, Emirates carried 170.000 people a day; today, they travel between 60,000 and 75,000 passengers a day. Emirates could generate a profit despite having more passengers and having the majority of its A380s grounded because passenger traffic is now returning at a much higher yield.
According to Clark, "Equilibrium requires supply and demand to be matched" when asked whether the high yield will last.
"Two things happen when demand exceeds supply: prices rise naturally, and people may choose to do something else instead".
"The capacity over the next two years is going to be quite a lot less than it was in 2019. All the airlines have taken so much debt on their balance sheets, they can't afford to open, they can't afford to open loss-making long-haul routes, they can't afford to buy new aeroplanes because that would cause new debts, so they've got to muddle through until they can restore the equilibrium".
"If that's going to be in 2025 or 2024, I don't know. That's why we will restore our network and our fleet to its former glory quickly, maybe by May 2022".
Source: Airline Ratings