First Qantas A380 returns to Australia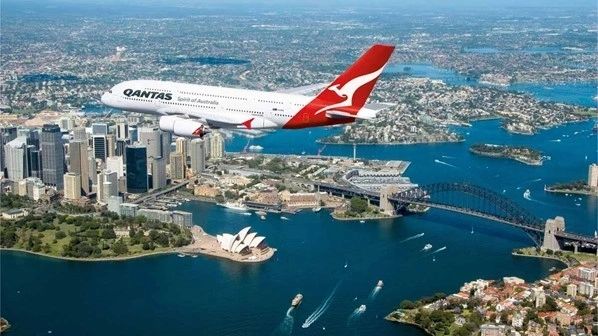 After a 593-day absence, the Qantas A380, named after one of the airline's founders, landed at Sydney Airport just after 3 p.m. on Tuesday 9 November, more than 19 hours after departing from Dresden, Germany. Qantas A380s will resume service early next year.
Captain Paul Grant, First Officer Barry Doe, First Officer David Thiess, and Second Officer Fiona Diamond, Piloting the aircraft back home.
The airline said the aircraft recently underwent regular maintenance for new landing gear after spending the better part of two years being cared for in storage by Qantas engineers during the COVID-19 pandemic.
Because of the high demand for international travel, particularly to and from Los Angeles and London, the airline is resuming service with two of its superjumbo aircraft as early as April 2022.
The plane will undergo extra maintenance inspections in Australia before travelling to the skies again in the coming weeks as part of crew training.
There are rumours that the A380 may make the odd surprise visit on certain scheduled domestic services. Among other issues, Qantas' domestic gates at its domestic airports are not geared up to accommodate an A380.
Qantas has taken almost half a million domestic reservations in the previous two weeks, compared with approximately 20,000 in two weeks in August.
Demand for tickets on Qantas' London to Sydney route has also been particularly robust, with Aussies reconnecting with family and friends in time for Christmas and extra flights added as a result.
"Literally six months ago, we didn't anticipate they'd be returning until the earliest at the end of 2023. This is how far Australia has come," said Qantas CEO Alan Joyce as the plane landed back in Sydney. "We now have the confidence to bring these aircraft back in the air sooner than we planned."
Originally expected to remain in long-term storage in the Californian desert until the end of 2023, Qantas announced that five A380s with upgraded cabins would return ahead of schedule with two to operate flights to Los Angeles from April 2022 and three to operate flights to London from November 2022.
The airline claims it is now aiming to further expedite the return of the A380s, with two to operate flights to Los Angeles from April 2022 and three to operate flights to London from November 2022.
In addition, a sixth aircraft will arrive by the end of the calendar year 2022, with the other four A380s projected to return to service by early 2024.
Qantas Chief Pilot Captain Richard Tobiano said it was a fantastic day for Qantas employees and customers who adore flying aboard the national carrier's flagship aircraft.
Surrounded by her young sons and listing her upcoming fill-in assignments, Second Officer Fiona Diamond said, "It's a great feeling." "I've been working at the local school cafeteria. I've been working for Thermomix. I've been working for a friend at his electrical business."
"I went out driving a header and was harvesting for three to four months," said David Thiess. The guy in control of the flight, Captain Paul Grant, worked as a house painter and a courier when not flying.
"Many of our crew have found other jobs during the pandemic doing everything from working in vaccination hubs and hospital wards to driving buses and tractors and painting houses. "Over the next few months, pilots will undergo an extensive retraining period including simulator sessions, training flights and classroom courses to prepare for take-off."