Emirates B777 Take Off Incident In Dubai Under Investigation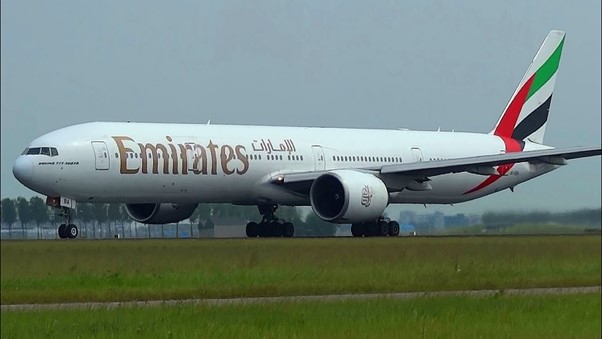 An investigation is proceeding into an incident involving an Emirates Boeing 777-300 that failed to properly climb out during take-off from Dubai International Airport (DXB) on December 20, 2021.
The Emirates Boeing 777 bound for Washington DC nearly rammed the ground shortly after take-off from Dubai. The flight crew failed to set a climb, resulting in the flight director properly, a system like an autopilot, nearly plunging the aircraft into the ground shortly after take-off.
According to FlightRadar24 data, Emirates flight 231 from Dubai (DXB) to Washington DC (IAD) suffered a potentially significant anomaly on take-off.
According to unconfirmed reports from the scene, which appear to be corroborated by data from FlightRadar24 and other resources, the flight crew failed to fix the take-off climb height, which was set to 00000 feet rather than 4,000 feet.
This allegedly prompted the Boeing 777 flight director to tip the aeroplane back towards the ground during a critical period of flight. According to FlightRadar24 data, the plane descended as low as 175 feet.
By then, a plane should be thousands of feet above the ground.
Planes rarely reach those speeds when the gear or flaps are down or flying at a low altitude. When these potentially dangerous situations occur, they are referred to as "Overspeed" issues.
If the occurrence in question did occur, the plane should have returned to Dubai for structural checks based only on the "Overspeed" factor. High speeds at low altitude, with flaps and gear down, could have resulted in aircraft damage that could have been dangerous during flight.
Instead, the plane proceeded to Washington, DC, where it safely landed.
In the end, concerns about Overspeed structural damage prompted an examination in Washington, causing the return flight to be delayed by more than three hours. Over speeding an aeroplane can cause cracks, structural failures, or problems with key flight systems.
After an assessment, it was determined that the aircraft suffered no severe structural or system damage during the take-off accident, and the flight returned to Washington from Dubai without issue.
However, doubts remain about whether it should have completed its outgoing flight to Washington DC, given the potential for damage during what was most definitely an Overspeed on take-off and the potentially serious miscalculation.
The event was reported to the Federal Aviation Administration in the United States, which claimed it was "aware." The United States would expect to be invited to join the investigation into the event as the state of production of the Boeing aircraft.
I've always believed that flying is far safer than driving or almost any other mode of transportation.
With that stated, human error may be bad at times. Even though flying is one of the safest modes of transportation available, periodically, near misses must be reconciled.
The incident was so critical that Emirates apparently sent a note to pilots reminding them that even though the preceding crew left an anomaly altitude of 0,000, that was most likely not what was meant for take-off.
Let's hope airlines take notice and strive hard to properly retrain flight crews as they return to work after a very long and challenging break. An avoidable calamity is the last thing the travel recovery needs.
It is simply too early to determine the actual causes of this incident, as it is with any other—a thorough enquiry, which might take up to two years.