Boeing Showcases New Jets At Farnborough Air show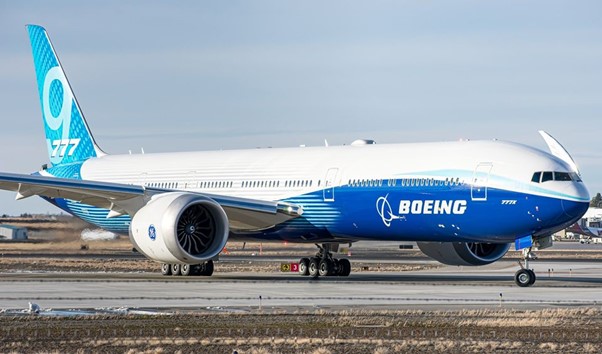 At the Farnborough International Air Show this month, Boeing will fly the newest and largest members of its 737 MAX and 777X jet families and exhibit new technologies to push towards more sustainable and autonomous flying.
The 737-10 will make its international premiere with the 777-9 in daily flying and static displays. The planes, each of which is the most fuel-efficient in its class, will fly to the exhibition using a sustainable aviation fuel blend, which Boeing sees as a crucial lever for further cutting carbon emissions. In addition, the business will present a modelling tool that will provide practical insights on solutions that the aviation sector may employ to achieve nett zero emissions by 2050.
Electric propulsion is another decarbonisation method, and Boeing's joint venture Wisk Aero will make the European debut of its all-electric vertical-take-off-and-landing (eVTOL) air taxi. The "Cora" development vehicle is pilotless, contributing to the advancement of autonomous capabilities in aviation. Boeing will display other autonomous capabilities at the exhibition, such as the MQ-25 aerial re-fueler and Airpower Teaming System (ATS).
"The world has seen the essential social and economic role that aerospace and defence play in the four years since the last Farnborough Air Show." "We are pleased to reconnect with our colleagues at Farnborough as we confront the need for a more sustainable future together and take meaningful efforts to promote innovation and clean technology," said Sir Michael Arthur, president of Boeing International. "We are excited to share the progress we are making."
The following are some of Boeing's highlights, which will take to the skies on July 18, 2022.
The 737-10 will be on display from July 18 to 21. The largest member of the 737 MAX family will provide operators with increased capacity, improved fuel efficiency, and the best per-seat economics of any single-aisle aircraft. The 737 MAX family, which has earned over 3,300 nett orders, has a sophisticated aerodynamic design and highly efficient engines to lower fuel use and emissions by 20% and the noise footprint by 50% compared to the aeroplanes it replaces.
The 777-9, the world's largest and most efficient twin-engine plane, will be displayed at the airport from July 18 to 20. The 777-9, based on the most successful twin-aisle aeroplane, the 777, and advanced technologies from the 787 Dreamliner family, will deliver 10% lower fuel use, emissions, and operational costs than the competitors. The 777X series has received over 340 orders from top operators worldwide.
Boeing will showcase its customer-centric services business, which combines OEM experience with data-driven innovation to keep the world's fleet flying safely, efficiently, and sustainably. This includes displaying offerings such as parts, modifications, digital, sustainment, training solutions, and a vast worldwide supply chain, maintenance, and logistics network.
Boeing will offer its vision for a sustainable aerospace future based on collaboration, technical research data, and significant testing of technologies such as renewable aviation fuel, hydrogen, and electric power.
As the world faces a burgeoning population and ageing infrastructure, the business is building on decades of engineering experience to accelerate autonomous capabilities, which can enable sustainable and accessible modes of transportation.