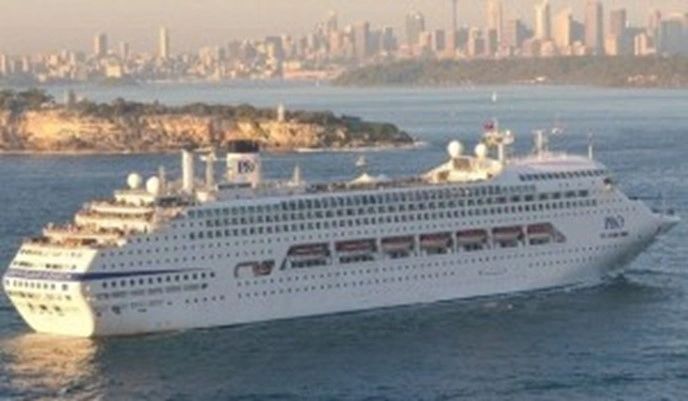 Is Australia's Much-Loved Pacific Dawn Really Sold and Going Crypto? You have to check out this "buyer's" colourful tale!
According to Cruise Industry News, P&O Australia's much loved Pacific Dawn may become a cryptocurrency ship based in Panama, with the ship's to be but not confirmed, new "owners" Ocean Builders apparently planning to turn "the Dawn", which is getting on a tad as she was built in 1991, into a floating community with shops and restaurants that accept bitcoins, apparently permanently anchored in the Gulf of Panama.
Ocean Builders' website says that the "Dawn" will change names to "Satoshi", after the smallest unit of a bitcoin and the project is called "Crypto Cruise Ship", with cabins on board will be sold to both bitcoin and non-bitcoin enthusiasts, so normal currencies will also be accepted, with sales apparently starting from November 5.
COO of Ocean Builders Chad Elwartowski, told Cruise Industry News that they will be "upgrading and doing any repairs needed" on the ship once they close the sale, suggesting that the deal is not done yet, with Elwartowski saying that whether the ship that will be used in the project is P&O Australia's Pacific Dawn is contractually a secret, as are other parts of the deal, but some pictures of the ship and deck plan are identical with those of the Pacific Dawn and the parameters and amenities listed atop of the project presentation roughly match those of the Pacific Dawn.
He added, "I could neither confirm nor deny this contractually, whether it's the Pacific Dawn," adding, "I'll leave it to other people to make that determination … I guess once people see real pictures of it, it'll be easier to figure out."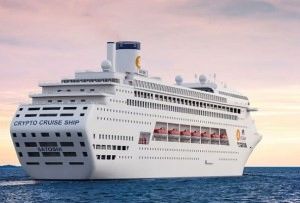 Cruise Industry News says that Elwartowski is known in the public sphere for trying to live on the ocean, 14 nautical miles away from Thailand's coast in 2019, and for that being legally threatened by the country's government with him and his then-girlfriend, now wife, having since left the country and relocated to Panama.
A quick search online reveals some very interesting elements indeed about Mr. Elwartowski's colourful time in and departure from Thailand in 2019 with a Thailand Navy image of his previous offshore location picture right, called seasteading and rather different to the Pacific Dawn.
According to the reports in the Bangkok Post and the Navy Times, and also by Associated Press, the Thai navy raided a floating home [pictured] n the Andaman Sea, off Phuket island, Thailand, belonging to an American man and his Thai partner who sought to be pioneers in the "seasteading" movement, which promotes living in international waters to be free of any nation's laws.
Thailand's Navy said Chad Elwartowski and Supranee Thepdet also known as Nadia Summergirl endangered national sovereignty, an offense punishable by life imprisonment or death, and the Navy filed a complaint against them with police in Phuket, with Thai authorities saying they have revoked Elwartowski's visa.
Elwartowski said in an email after the raid that he believes he and Supranee did nothing wrong, but Thai Navy Rear Adm. Wintharat Kotchaseni told Thai media, "This affects our national security and cannot be allowed," adding the floating house also posed a safety threat to navigation if it broke loose because the area is considered a shipping lane.
The Bangkok Post also said that Seasteading has had a revival in recent years as libertarian ideas of living free from state interference — such as by using cryptocurrency including Bitcoin, have become more popular, including among influential Silicon Valley figures such as entrepreneur Peter Thiel and that Elwartowski, an IT specialist, has been involved in Bitcoin since 2010.
The Bangkok repost also says that several larger-scale projects are under development, but some in the seasteading community have credited the Andaman Sea house with being the first modern implementation of seasteading, with Patri Friedman, a former Google engineer who heads The Seasteading Institute, saying on Facebook page, "The first thing to do is whatever I can to help because living on a weird self-built structure and dreaming of future sovereignty should be considered harmless eccentricities, not major crimes."
In online statements, both Elwartowski and Ocean Builders said the couple merely promoted and lived on the structure, and did not fund, design, build or set the location for it, "I was volunteering for the project promoting it with the desire to be able to be the first seasteader and continue promoting it while living on the platform," Elwartowski told The Associated Press. "Being a foreigner in a foreign land, seeing the news that they want to give me the death penalty for just living on a floating house had me quite scared," Elwartowski said. "We are still quite scared for our lives. We seriously did not think we were doing anything wrong and thought this would be a huge benefit for Thailand in so many ways."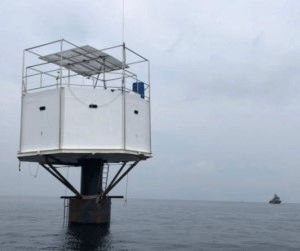 Cruise Industry News says that according to the information online, "Crypto Cruise Ship's" cabins are being sold for $25,000 to $50,000, with a total of 777 cabins available for sale.
With the price Ocean Builders is paying for the ship classified, Elwartowski revealed to Cruise Industry News that it's much less than what it would have cost in 2019, adding, "The pandemic has brought prices down." "I think the value of the ship last year was 100 million, and we didn't pay that much"
Pacific Dawn, aka Satoshi, is expected to make her way from Greece to Panama in December.
Cruise Industry News asked how Elwartowski is going to make sure he doesn't get into legal trouble this time, saying that the Panamanian authorities are friendlier, than Thai, and he's got a team of maritime lawyers and Colombian Cruise Services helping Ocean Builders stay within the legal framework, with Elwartowski adding, "We are definitely going to be fully compliant with the laws," and "Panama is more welcoming to our projects and boosting the economy than Thailand was."
Cruise Industry News adds that Elwartowski has also allegedly managed to bag a friendly relationship with the Panamanian government, with him saying, "We're in contact with the government to ensure [that] anything that they see that we're doing wrong, they can contact us [with] immediately," adding
"We're still talking to [the Panama authorities] about the cruise ship, we've been talking to them for a year … We still don't have a response to that." "But Panama is very ship friendly… So hopefully they're going to be as excited about it as we are," Elwartowski said.
Explaining why the company chose Panama for this project, Elwartowski said, "Cryptocurrency is completely legal in Panama, they don't have a central bank …They have balboas, but everybody uses dollars here, so there's definitely no laws about using their currency."
So, what is also interesting in all this that this deal is not yet done, yet Ocean Builders is selling cabins from November, the vessel is still in Greece and it appears that a lot of water has to go under the bridge as it were yet and whether the "deal" will come to fruition it appears rather open to conjecture!
I suppose one hopes that P&O will get paid and I wonder whether it will be in bitcoins!
A report edited from Cruise Industry News by John Alwyn-Jones
Source: Global Travel Media