Australian Domestic Borders Current Status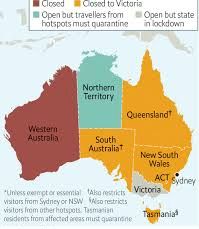 The process of getting an entire nation of more than 25 million people moving freely again in the face of a pandemic is, quite obviously, one that exists in a constant state of flux. Even in the last couple of weeks, plans to ease restrictions and open up inter-state travel for Australians have been constantly hit with complications, with Australians naturally hesitant to go far beyond their homes and spikes, like those we have seen in Victoria and to a much lesser extent in New South Wales, throwing other plans into disarray.
It's a situation that has forced state governments to perform a balancing act as they open their borders up to some, and keep them closed to others, sometimes on a city-by-city basis. Here's what you need to know in every state.
Where can Australians travel right now? The answer depends on where you live and a few other factors.
NSW the ACT and South Australia, are accepting travellers from all states except those from Victoria, who will only be able to enter if deemed essential travellers.
Queensland accepts travellers from all states except Victoria and from Sydney Metro area, or those who have visited those two areas, people residing in the rest of NSW are allowed to enter. The restrictions for Sydney metro area and Victoria will remain in place until December 1.
Victoria allows anyone to enter the state.
Tasmania currently welcomes travellers from South Australia, Queensland, Western Australia, the Northern Territory, and the ACT without the need for quarantine. People from NSW will be able to arrive from Nov 6. Victorians are still considered 'high risk' and not permitted entry unless an exemption is granted.
Western Australia is not accepting any travellers unless they have an exemption.
The Northern Territory welcomes all travellers without the need to quarantine except those who visited an area declared a 'hotspot'.
However, Federal Health Minister Greg Hunt said today that Australia is on track for internal borders to be lifted by Christmas, saying there was a mounting medical case for Queensland to open its border to greater Sydney and allow free movement "as soon as possible".
Today Australia reported zero community transmissions of COVID-19 for the first time since June 9.
The opening of domestic borders is vital to get the airlines, travel and tourist business kick-started, further delays will put at stake significant job losses.
Stay well!
Joe