Abu Dhabi Cancels Contract on Gigantic Billion Dollar New Airport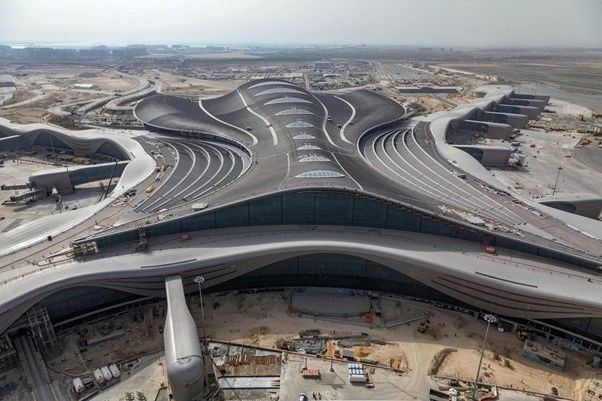 The oil-rich Gulf emirate of Abu Dhabi is said to have cancelled a nearly $3 billion contract for a long-delayed new airport terminal that was to be dominated by Etihad Airways. According to Reuters sources who spoke on the condition of anonymity, the government-owned airport operator cancelled the contract due to significant cost overruns.
The massive 742,000 square metres Midfield Terminal was supposed to open in 2017, but the project has been plagued by delays, and there is no word on when the airport will finally open.
The building's construction was claimed to be 97.6 per cent complete in late 2019, but officials pushed back the opening date to an unspecified date in mid-2020. The pandemic has since slowed the project even more, and the Abu Dhabi airport company hasn't provided an update in over a year.
The structure was designed to support Etihad Airways' growth, with the capacity to handle up to 84 million passengers per year. Etihad Airways is rapidly contracting to become a boutique carrier, and the Midfield Terminal is unlikely to ever handle nearly the number of passengers for which it was designed.
The terminal will also have 30,000 square metres of premium lounge space and 28,000 square metres of Duty-Free shopping. The baggage handling system can handle approximately 500,000 bags per day, and eight of the 65 aircraft gates are specifically designed to handle the Airbus A380 – the double-decker aircraft that Etihad will most likely never fly again.
The airport terminal was put through its paces in mid-2019 with its first ground handling exercise, which involved 800 volunteers simulating passengers arriving and departing from the airport. It is unknown whether the airport has conducted any additional trials since then.
The consortium involved in the construction project has declined to comment on the rumours and it remains unclear when, if ever, the terminal will open.
By Joe Cusmano