The 2021 Travel Guide – Measures That Keep You Safe From COVID
The 2021 Travel Guide – Measures That Will Keep You Safe From COVID-19
2020 was notoriously disastrous for most of the countries in the world. The unprecedented year's holiday season saw the coronavirus-induced restrictions severely impacting travel plans.
In the United States, the number of travellers in 2020 was way below relative to 2019. So much so, many Americans are still unsure about making any holiday travel plans. However, some enthusiastic travellers have begun to venture out.
As the New Year 2021 dawned upon, UK Prime Minister Boris Johnson instructed approximately 56 million people in England to revert to a full coronavirus lockdown. His aim is to cut down on the number of infection rates. Quite evidently, the Government is also planning new curbs on intercontinental flights to slash infections.
In Australia, with COVID-19 cases on the wane, the number of people flying or using roadways to travel is gradually increasing.
Australia tourism and Australian Government Department of Health have published advice on how to travel as safely as possible amid the ongoing crisis. While the government has recommended against travelling and gathering, overseas travel is possible only with permission.
By taking necessary precautions, travellers can reduce the risk of transmission or contamination while on the go. Let us wall through a few of these precautions-
1. Practice Good Hygiene: Before you pack your luggage, pack a bottle of alcohol-based hand sanitiser and disinfectant wipes — the new normal! Amid the ongoing health crisis, travellers must regularly wash their hands or use alcohol-based hand sanitisers. Also, they must avoid touching their eyes, nose, and mouth. It is essential to disinfect the items often used, such as phones, wallets, and keys. While shopping on the go, making cashless transactions wherever possible via online payments or digital transactions is wise. Ventilation plays a considerable role to avoid getting infected by the COVID-19 virus. Therefore, car windows should be kept open or the AC should be on so that there is enough ventilation.
2. Local Area Guidelines: Read all the local area guidelines before you plan to visit that place. If the state requires the coronavirus-related tests to be done in advance or needs you to carry a mask, it is important that you abide by all such local rules and regulations. See the limit on gatherings and guidelines to use public areas like restaurants, shopping centres as well.
3. Physical Distancing Is a Must: Many states and territories in Australia have eased the restrictions. However, one must keep a minimum distance of 1.5 metres from others. While meeting others, avoid physical greetings such as handshakes or hugs. Most importantly, avoid visiting large, crowded areas, and public gatherings. Places like malls, restaurants, parks, can particularly be crowded, therefore taking all precautions is vital.
4. Understand How To Isolate And Quarantine: Self-awareness plays a critical role, not just for your own safety, but also for your loved ones. Hence, at the first sight of any coronavirus-related symptoms, isolate and quarantine yourself at the earliest. Inform the authorities about your health condition in case you have or are suspected of having COVID-19. In that case, you will be taken to the hospital or dedicated quarantine centres as decided by the public health authority. If suitable, you will be asked to stay at home in isolation.
5. Wearing A Mask: In some areas, facemasks are mandatory, therefore while you pack your suitcase, do not forget to carry a facemask as well (packing extra masks is wise too!). They may come handy where community transmission is reported. Therefore, check the guidelines issued by the local authorities in the area you are visiting to avoid any unnecessary last moment hassle.
6. Check Hotel Hygiene Practices Before Booking: Many hotels, resorts, rental homes, motels, and caravan parking areas are following the enhanced hygiene measures to ensure that guests have a safe stay, untouched by COVID-19. Safety measures include contactless check-in, elevated hygiene cleaning, and disinfection of all areas. Along with the usual dental and sanitary kit, hotels are also providing sanitisers, wipes, and masks. Few select places are also offering in-house medical support, in case of any requirement during their stay.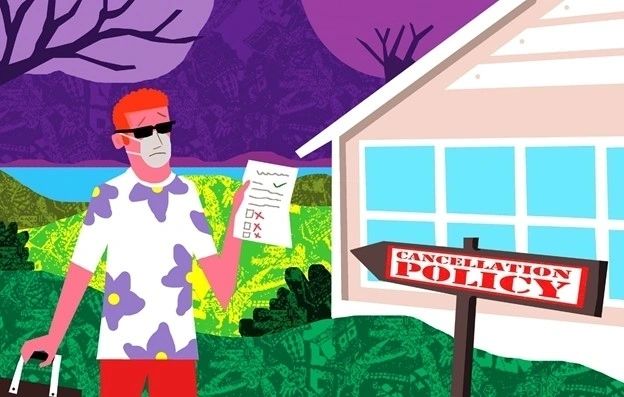 1. Cancelling Policies: Few states and territories have opened their borders to welcome travellers from other parts of the country. However, the situation is uncertain, and any sign of rising coronavirus cases can result in border closures. So, check the cancellation policies before booking public transport and rental places. You wouldn't want your hard-earned money to go in vain.
2. Prepare For The Worst: Since the coronavirus pandemic started, many people have lost jobs, and most of us were confined to homes for months. The additional financial burdens and health issues have taken a toll on mental health. So, while you look forward to the trip after many months, it is essential to consider any unforeseen scenario that may add to the current crisis. Be well prepared to deal with such scenarios.
3. While Getting Travel Insurance: See if any travel insurance company is providing additional benefits to deal with coronavirus-related issues. For instance, many are offering a refund on hotel or flight cancellations, medical assistance, in case of COVID-19-related emergency etc., which will ensure peace of mind while travelling.
4. Pack Light: If you are on the move during the pandemic, travel light. According to health experts, instead of checking a bag, the carry-on bag will help you avoid others touching it when you bypass luggage carousels and security checks.
Source: Kolkine Media