Singapore Airlines Offering Free Wi-Fi To Attract Customers
If you are flying with Singapore Airlines within the next three months, you can stay connected for free, at least for part of the flight. The carrier has increased its free Wi-Fi service for the next few months to include two hours for everyone on board.
The complimentary two hours cover both online browsing and messaging. The offer is good until March 31, 2022.
Those two complimentary hours are accessible on all Singapore Airlines flights equipped with Wi-Fi, including the Airbus A380s, Boeing 777s and 787s, and Airbus A350s. Usually, users of the company's KrisFlyer reward programme have access to the free messaging plan for two hours, and top elites and business class travellers get 100MB for free.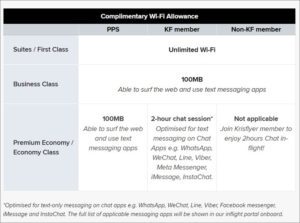 This two-hour complimentary Wi-Fi adds to Singapore Airlines' usual two-hour text-based conversation and 100MB of Web data for economy, premium economy, and business class passengers.
The promotion appears to be free of data restrictions and includes unlimited web access.
With an increase in lockdowns and a pause in new approvals for verified travel lane tickets, it is unlikely that many travellers will be able to take advantage of this perk in the end. However, for the few passengers that are travelling, it is a nice bit of free Wi-Fi connectivity onboard.