Qatar Airways Will Offer Touch Free Entertainment Via Bluetooth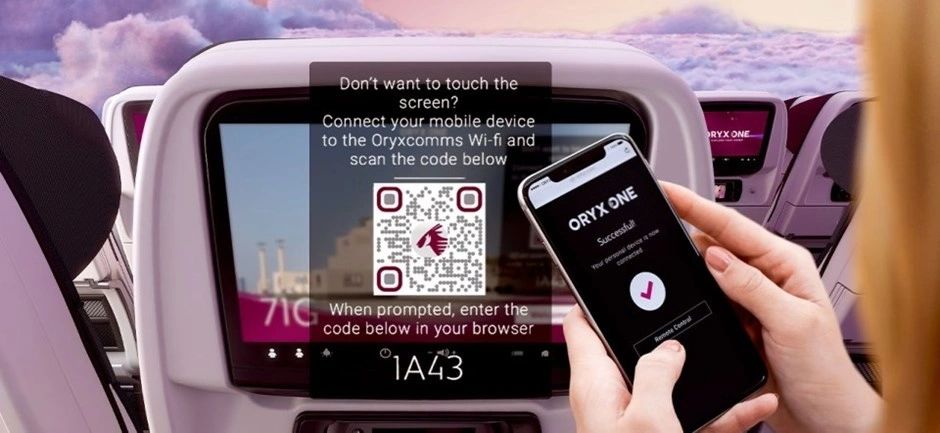 Did you ever wonder whilst boarding a plane and walking to your assigned seat, who was seating there before you?
People were peripherally aware of germaphobe thoughts pre global pandemic, but smack in the middle of one, senses are on high for all.
The news that Qatar Airways will become among the first global airlines to offer truly 'touch free' flying is extremely exciting. From Bluetooth audio connectivity for your headphones to phone pairing controlling your screen, flying is on the way to something so much better.
Qatar Airways A350's and 787's are going to be refitted with touchless technology. This is the new altitude airlines are striving for, putting passengers in greater control of their surroundings. The concept is rather simple: anything you presently need to touch on board could become wirelessly, digitally controlled via things you bring on board, like Bluetooth headphones, or your mobile phone.
Qatar Airways is upgrading to a new Thales Avant system for in flight IFE on board Airbus A350-900, and A350-1000 aircraft, which puts passengers in control of screens and audio, all using their own personal devices. The new experience will be available in all cabins.
According to the airline, this makes Qatar Airways the first global airline to "offer passengers 100 percent Zero-Touch technology". Though the airline says "soon" a specific launch date was not specified. Qatar Airways CEO Akbar Al Baker said.
"The introduction of the state-of-the-art Zero-Touch technology and enabling passengers to use their personal Bluetooth headset on board is an important step in taking our already rigorous and stringent COVID-19 precautions to another level, limiting passenger surface contact, and preventing any possible spread of infection on board.
We hope it provides yet further assurance of the safety of air travel, as well as offering passengers on board increased confidence that they are enjoying the most consistently advanced customer experience available in the sky" said Akbar Al Baker, Group CEO of Qatar Airways
On the Qatar Airways A350, all content will be able to stream onto your personal devices by scanning a QR code and using the complimentary Wi-Fi streaming system on board. All the movies, podcasts, boxsets, and audio will be available using your devices or on screen.
For Qatar Airways' relatively new Boeing 787-9 fleet, Bluetooth headphone connectivity will allow passengers to use their own earbuds or headphones to listen to video and audio content on Qatar Airway Oryx One in-flight entertainment system. No need to unpack the ones in the plastic or plug in and touch surfaces.
A QR code on the back of each seat will help travellers pair their phone to control the screen, so they can pause, play and browse without ever touching anything they didn't personally bring on board.
Yes, your iPhone or Samsung will be your remote, and the buds you were jamming to on the way to the airport will see you through the flight. With hope, this move from Qatar Airways, and other airlines in the near future will also reduce plastic waste and the number of single use headphones.
Fortunately, all Qatar seats are equipped with USB power ports, because there's going to be a whole lot of streaming or remote controlling going on, and that tends to bring battery drain.
From new all 'anti-microbial' cabin surface designs to the emergence of streaming and Bluetooth connectivity, it is safe to expect major health and hygiene improvements on airlines all around the world, as air travel looks to rebound.
Whenever you next hop on a plane, the experience may be far more tech forward and modern than you remember. Well done Qatar Airways for continuing to be pioneering new more innovative product experiences.
By Joe Cusmano