Qantas Passengers Get Sky-High View of Supermoon Eclipse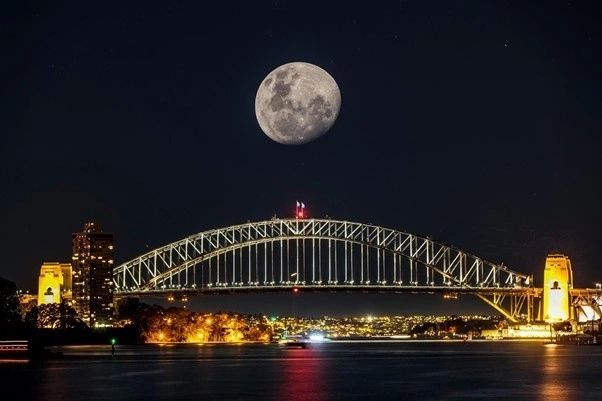 From staying up all night to camping out on rooftops, people go to extreme lengths to catch a glimpse of a supermoon, particularly when it comes with a total lunar eclipse.
After flying 180 people over the Pacific to see the phenomenon, it's safe to say Qantas, and those aboard its novelty flight on Wednesday night beat most in their efforts to view the event.
It took a record three minutes for all seats on the supermoon scenic flight to be snapped up. Economy fares sold for $499, premium economy for $899 and business class for $1499.
The experience began with dinner and drinks in the Qantas lounge with a serenade from TV actor and singer Hugh Sheridan. The passengers then boarded to enjoy cosmic cocktails and "supermoon cakes" on the plane.
As the total lunar eclipse started at 9:11pm, the crew dimmed the cabin lights so passengers could view the moon crossing into the darkest part of the Earth's shadow. The total eclipse lasted 14 minutes and 30 seconds, relatively short for a total eclipse because the moon only passed through a small section of the Earth's umbra.
In the darkness, the Milky Way was illuminated by the moon, with some passengers saying they felt like they were among the stars themselves.
Some passengers were disappointed their view of the moon wasn't as magnified as they were expecting.
Wednesday night's one-off Boeing 787 Dreamliner scenic flight was the latest of several novelty flights the airline launched in the wake of the pandemic. They include scenic "flights to nowhere" and "mystery flight" day trips.
Australia will have to wait 12 years before the next supermoon and total eclipse, which will take place on October 8, 2033.
The flight operated with net zero emissions, with 100 per cent of carbon emissions offset, according to Qantas. It took off in Sydney, and began with a sweep over Sydney Harbour, before soaring above the clouds to 43,000 feet, the maximum cruising altitude of Dreamliner.
By Joe Cusmano