Moderna's Coronavirus Vaccine Is 94.5% Effective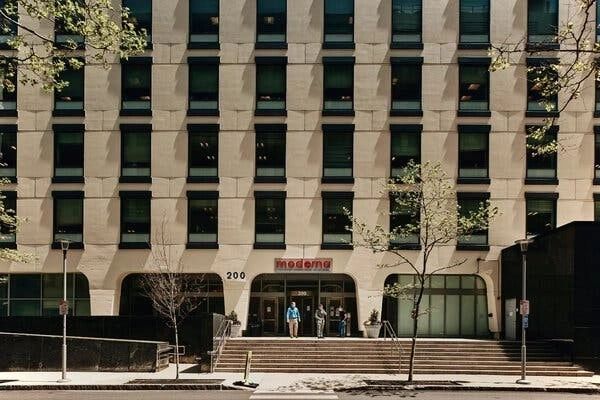 Moderna is the second company to report preliminary results from a large trial testing a vaccine. But there are still months to go before it will be widely available to the public.
The drugmaker Moderna announced on Monday that its coronavirus vaccine was 94.5 percent effective, joining Pfizer as a front-runner in the global race to contain a raging pandemic that has killed 1.35 million people worldwide.
Both companies plan to apply within weeks to the Food and Drug Administration for emergency authorization to begin vaccinating the public. Officials said the two companies could produce enough vaccine for a little more than 20 million people in the United States by sometime in December, with the first doses going to people with the highest risk, like health care workers, emergency medical workers, and frail residents of nursing homes.
But a vaccine that would be widely available to the public is still months away, while the need for one is becoming increasingly urgent.
The pandemic has infected more than 56 million people around the world so far and in the U.S. cases are soaring, setting records every day. There have been more than 11 million cases and 246,000 deaths. Covid-19 is killing more than 1,100 Americans a day, and the last million cases occurred in just six days.
Some states and cities are reinstating lockdowns, restricting gatherings, issuing mask mandates, setting curfews for bars and restaurants, and closing schools once again. Hospitals in some areas are overwhelmed, scrambling to find enough beds for the severely ill. Major grocery chains have begun reimposing limits on purchases of household supplies like paper towels and tissues.
Despite those sobering measures, the stock market rallied on Monday, fueled by Moderna's news. But businesses and others braced for what could be a bleak holiday season with Covid's grip on the nation's citizens and its economy.
Public health officials greeted Moderna's news with a modicum of excitement, especially when viewed alongside the data released last week by Pfizer, which, in collaboration with BioNTech, reported that its vaccine was more than 90 percent effective. The two companies were the first to announce interim data from large studies. Ten other vaccine makers are also conducting big Phase 3 trials, including efforts in Australia, Britain, China, India and Russia. More than 50 other candidates are in the earlier stages of testing.
The Pfizer and Moderna vaccines far exceeded the Food and Drug Administration's requirement that coronavirus vaccines be at least 50 percent effective to receive approval.
Moderna also reported on Monday that its vaccine had a longer shelf life under refrigeration and at room temperature than previously reported, which should make it easier to store and use.
"This vaccine presents the opportunity of using doctors' offices, clinics, and pharmacies as vaccination sites," he said, adding that he would not be surprised, should both vaccines become available, if vaccination sites requested Moderna's.
So far, studies of the two vaccines have not found serious side effects, but participants have reported sore arms, fatigue, fever, and joint and muscle aches that last for a day or two.
Edited by: Joe Cusmano