ITA Airways The World's Newest Airline Takes Off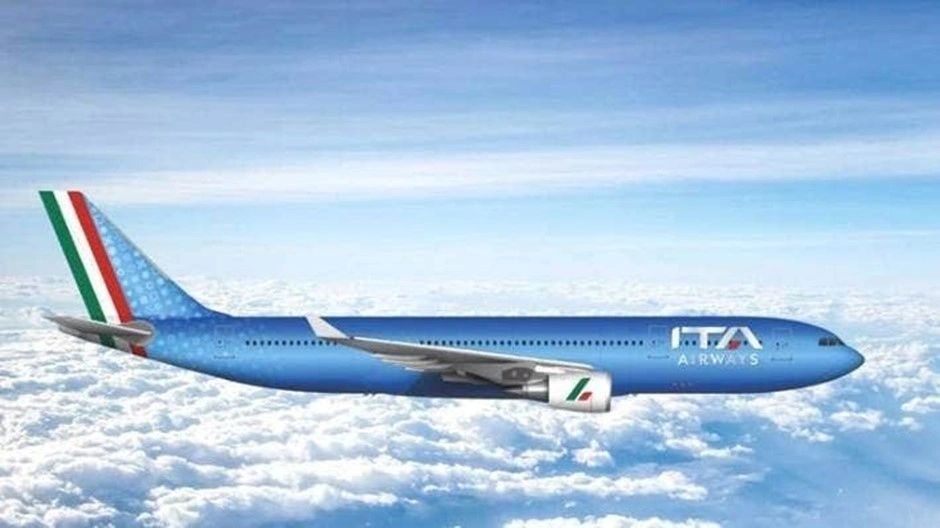 The Italian national airline, ITA, has taken to the skies from October 15 as the successor to the bankrupt Alitalia.
Italy's new national airline, ITA Airways, has flown its first flights and unveiled its brand and logo, which recycles its Alitalia roots' red, white, and green as it attempts to chart a new course while competing with low-cost carriers. ITA Airways is the country's first national airline and is based in Rome.
Following the bankrupt flag carrier Alitalia's landing of its final aircraft last Thursday night, ITA was formally established, bringing a 74-year corporate history that had been blighted by a succession of financial crises to a close.
Since the much smaller ITA Airways is only hiring about a quarter of Alitalia's more than 10,000 personnel, protests and strikes followed the buildup to the airline's formal collapse. Negotiations with labour unions are still in progress.
In exchange for the rights to the Alitalia brand and website, ITA paid €90 million (more than A$140 million). However, the new airline is known as ITA Airways, and it has its own website and a new frequent flyer programme called "Volare," which translates as "Fly."The New Executive President Alfredo Altavilla insisted at a press conference announcing the airline's opening that its much-reduced size, including its smaller fleet, employees, and destinations, makes it a credible competitor to low-cost carriers while providing superior service connectivity and value.
In his words, "ITA Airways is born right-sized, in the optimal dimensions, both in terms of the size of its fleet and the number of destinations it will serve." It is important to note that we do not inherit the negative consequences of being overly large, which are at odds with economic realities."
When questioned about alleged forecasts by low-cost carriers that ITA Airways will fail, he reacted angrily.
"They might be absolutely correct that this is going to be difficult for us, but I am really curious to see one day their PnL (Profit and Loss) and their balance sheet without all of the subsidies that they are receiving from the local institutions and the small airports here in Italy," Altavilla said. "They might be absolutely correct that this is going to be difficult for us," Altavilla said.
"I'd want to see a level playing field," he continued.
The first ITA aircraft took off at 6.20 a.m. local time on Friday from Milan's Linate airport to the Italian city of Bari, which is located on the Adriatic Sea. ITA currently operates flights to 44 destinations, with plans to grow that number to 74 in four years.
The business intends to offer flights to New York from Milan and Rome and flights to Tokyo, Boston, and Miami from Rome, among other destinations. Paris, London, Amsterdam, Brussels, Geneva, and Frankfurt, Germany will all be accessible from Rome and Milano Linate airport. Routes to South America as well as Los Angeles are being considered.
ITA jets will be painted royal blue with Alitalia's signature "tricolore" on the tail, which will mirror the colours of the Italian flag: red, white, and green. Colours blue represent the Italian national sports team, and business officials stated Friday that the colour scheme chosen for the new aircraft is intended to make ITA "Azzurri," as the team is known in Italian.
For the time being, the new blue Airbus aircraft can only be seen in commercials, with Alitalia's old white fleet still flying the skies.
ITA will begin operations with a fleet of 52 aircraft, which will grow to 78 aircraft by 2022 as new-generation jets start to arrive on the scene.
Officials were quiet on the subject of possible collaborations with other carriers. Previously, Alitalia was a part of the SkyTeam airline alliance, which comprised major airlines such as Delta, Air France, KLM, and others.
ITA now has 52 planes, which it expects to grow to 105 planes in the same period. It focuses on next-generation aircraft that use sustainable, alternative fuel sources to achieve this growth.
The company began operations with 2800 people, with 70% of them coming from Alitalia, and plans to grow that number to 5750 by 2025, according to the company.
By Joe Cusmano