Fully Vaccinated Americans Can Visit Europe This Summer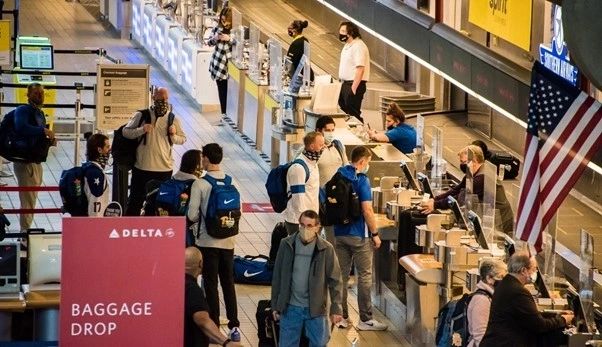 The European Commission President, Ursula von der Leyen, told The New York Times that Americans who have been fully vaccinated against COVID-19 should be able to travel to Europe by summer. The union's 27 members would accept, unconditionally, all those who are vaccinated with vaccines that are approved by the European Medicines Agency.
She did not offer details on how or when tourist travel might open up.
That declaration was met by enthusiasm from many Americans eager to travel. In an analysis of travel bookings, the travel app Hopper observed a 47 percent spike in airfare searches from the United States to Europe for the summer since Sunday, with the top five most-searched destinations being Paris, Barcelona, Frankfurt, Athens and Amsterdam, according to a spokeswoman for the company.
In Europe, though, the reaction was more mixed.
In tourist-dependent countries, the announcement was called good news, but with lockdowns in place and vaccination slow, many are wondering how realistic it is.
On March 31, President Emmanuel Macron of France announced the start of a third national lockdown in a bid to control the spread of a new deadly wave of the coronavirus. Domestic travel between regions is forbidden and restaurants, bars and cafes remain closed.
Germany has been in various forms of lockdown since November, with no signs of when restrictions might be lifted. And Spain, in recent months, has made a concerted effort to restrict Spaniards to their home regions, with police roadblocks near provincial borders on holiday weekends to keep people from travelling and possibly spreading the virus.
Although German politicians are promising a prospective reopening plan by the end of May, the mayor of Munich announced on Tuesday that the annual Oktoberfest — still half a year away — would probably not go ahead, for a second year in a row.
Italy is in the middle of a third wave of the pandemic that appears to have peaked in late March, with the curve slowly going down. Across the country, only 9 percent of the population is fully vaccinated, and 12 percent partially, although most of the country regions are now in the yellow zone and restrictions have been eased.
Greece, which surpassed 10,000 Covid-19-related deaths on Sunday and has been under strict lockdown for months, including a requirement to text the government when leaving the house, is actually a step ahead of the European Union. It had originally announced that it would reopen to tourism on May 15 but then announced that travellers from a handful of nations, including the United States, could visit as of April 19 if they are fully vaccinated or can show a negative PCR test result.
Many Greeks had hoped to travel to nearby islands or villages to reunite with family members over the Orthodox Easter break on May 2, but the government instead kept the restrictions on travel by residents in place.
Spain, though limiting its own citizens' movements, has for weeks been open to visitors with negative PCR tests from the rest of Europe, and tourists have been flocking to places like Madrid, which has more relaxed restrictions than their home cities. Most of its cultural attractions are open with Covid protocols, and the city's curfew is 11 p.m., compared to much earlier curfews in other parts of the country and Europe.
Europe is one of the top three destinations for Americans, with millions visiting every summer. Several European countries struggling under the virus, like Greece, Spain and Italy, have relied on tourism dollars — specifically American tourism dollars — to fuel their economies for decades.
For many, the announcement only highlighted the present situation in much of Europe, where vaccinations have been running far behind those in the United States and where lockdowns have been far longer and much stricter.
It is against this backdrop that the European Union announced that it would be welcoming vaccinated visitors from the United States this summer.
There were, of course, practical questions about what kind of "vaccine passports" might be developed and concerns about whether amid a slow vaccine rollout in France, for instance, even vaccinated Americans could impact the evolution of the outbreak.
Some, however, merely hoped that the United States, which still bars travel from Europe with few exceptions, would reciprocate the gesture.
By Joe Cusmano