Experience two great airlines with an excellent fare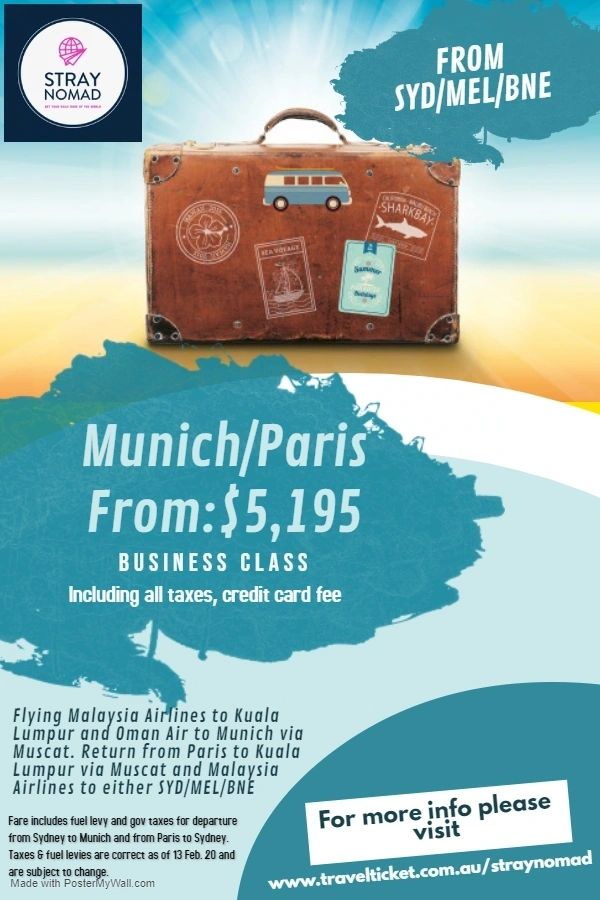 This great deal has caught my attention and I decided to share it with you. A very competitive business class fare to Munich and surfacing to Paris with Malaysia Airlines and Oman Air. I worked with both airlines and I can assure you that the business class of both airlines is very good with seats that recline flat and excellent inflight service. The two stops product it certainly appealing to me as it breaks the long journey and gives the opportunity to stop in either Kuala Lumpur or in beautiful Muscat, capital of the Sultanate of Oman. Two airlines with a great new product. This mixed class fare is perfect for people that like me are disabled and are SPECIAL and break the journey, but it is also great for anyone who likes to break the journey and discover new places. For information's on Oman including suggested Hotel stay, please see my blog on Oman https://straynomad.com/f/enchanting-oman-the-best-secret-of-the-arabian-peninsula Get ready, grab this deal and pack your bags.
Please visit: http://www.travelticket.com.au/straynomad/ for further information's and bookings.