Check this out! Long journey's should be comfortable! Mixed Economy and Business Class Airfares cheap flights to europe cheap business class flights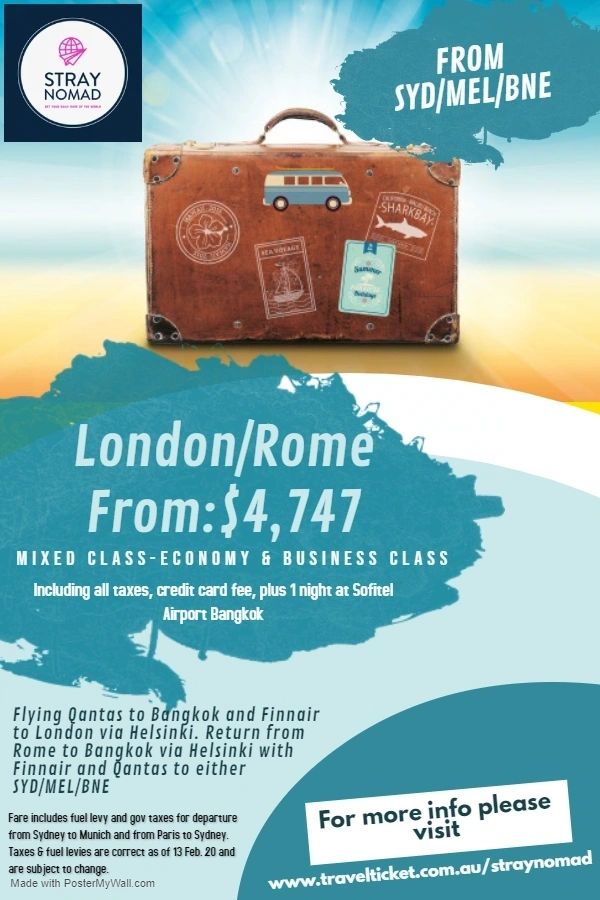 Travel economy class with Qantas to Bangkok and in Business class from Bangkok to London via Helsinki with Finnair. The return is in Business class from Rome to Bangkok via Helsinki with Finnair and from Bangkok to SYD/MEL/BNE with Qantas. Included in this fare you have taxes and surcharges, 3 pieces of check-in bags plus your cabin carry on and 1 free night at the Sofitel Bangkok Airport. This is once again a fare with 2 stops which not only gives you the opportunity to break your long flight to London, but also gives the opportunity to visit two great cities on the way there. For a stop in Helsinki I recommend the Indigo Hotel, a 4-star hotel located on the Bulevardi avenue in trendy Punavuori, a great choice for travellers interested in shopping, culture and architecture. The Hotel is fully wheelchair accessible.
For me this is a winner once again for 2 reasons:
1. Fly economy class on the shorter leg to Bangkok and Business on the longer leg to London and vice versa.
2. Break your journey and stop and visit two great cities on the way there, Bangkok and Helsinki.
If you are disabled and SPECIAL like me both Qantas and Finnair take great care in handling your mobility equipment and breaking the journey is great way to travel!
Please visit: http://www.travelticket.com.au/straynomad/ for further information's and bookings.