Emirates closes A380 On-Board Lounges As Safety Precaution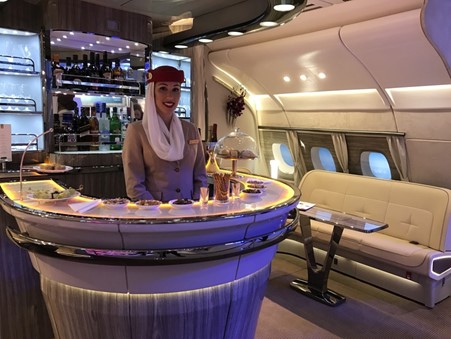 The airline announced that Emirates A380 passengers wouldn't be able to use the onboard bar and lounge any longer.
It was decided to introduce the temporary change because of the ongoing need to take safety precautions to prevent the spread of Covid-19.
Health and safety concerns have prompted Emirates to alter some aspects of its onboard service temporarily, the airline said.
Customers will not have access to our onboard lounge and social area at this time." Emirates expresses its sincere apologies for any inconvenience this has caused." " Our clients' and our employees' well-being is our first priority, and we will not take any risks."
Passengers flying in First or Business Class were previously able to access the lounge, which serves food and beverages throughout the journey.
There was enough for 26 persons in the upper deck portion of the plane at any given moment.
It is unknown when the service would restart however the company stated that the lounge at Dubai International Airport is still open for business.
Emirates received its 123rd Airbus A380 superjumbo jet in December, and the aircraft was the last new A380 to join the fleet.
The plane flies between Dubai and several major destinations, including Jordan, Egypt, Germany, the United Kingdom, and the United States.
As a result of the pandemic, Emirates changed its onboard operations like many other airlines.
Emirates thoroughly cleans and disinfects any aircraft departing from its Dubai hub.
All of its planes have HEPA cabin air filters, which remove more than 99 percent of viruses. Personal protection equipment, such as masks, gloves, and disposable gowns, is used by the cabin crew.
Source: The National