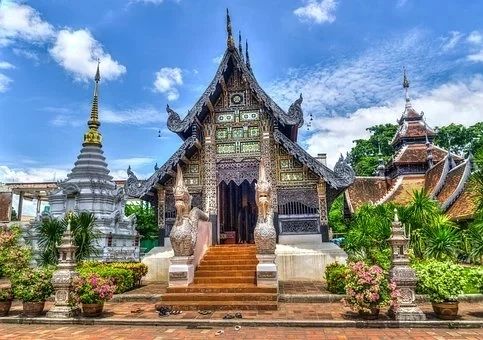 Situated in the mountains of northern Thailand, Chiang Mai is one of the most popular destinations in Thailand. If you are looking for culture and especially temples, then Chiang Mai is the right place to be for you.
Chiang Mai experiences different weather than you'll find in Bangkok or the Thai Islands. While Chiang Mai doesn't have seasons in the traditional sense (summer, autumn, winter, spring), the climate does vary significantly throughout the year. Some months are very rainy, others are hot and humid, and others have clear skies during the day and cool temperatures at night.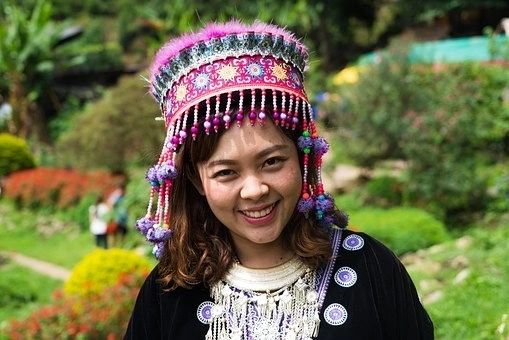 In addition to the temples in Chiang Mai, you can explore or be active in many other spots in the Chiang Mai area, e.g. trekking in the jungle. These also include hot springs, waterfalls, festivals or markets. Especially beautiful is the Old Town, which spreads a unique atmosphere, surrounded by a moat and partially old city walls.
The best way to explore Chiang Mai is by walking around the Old Town or rent a scooter inside and outside the city. If that's not your case and you're not feeling safe on a scooter with a license, there are plenty of tours available that are well-organized and give you a great impression of the city and surroundings.
Since Chiang Mai is a popular tourist destination in Thailand, you can reach the city by airplane, bus, train or minivan. You can even take international flights to Chiang Main from various major cities airports around Asia and Qatar. You can also fly to Chiang Mai from many locations within Thailand.
Furthermore, there is a train connection from Bangkok to Chiang Mai, but it usually takes 12 hours or more to arrive. Bus and minivans also drive from many different cities to Chiang Mai such as Bangkok, Chiang Rai and many more.
Ensure whilst in Chiang Mai, that you try one of the best noodle soups in South East Asia, the Khao Soi. This dish is made with a mix of deep-fried crispy egg noodles and boiled egg noodles, pickled mustard greens,shallots, lime, ground chillies fried in oil, and meat in a curry-like sauce containing coconut milk. The curry is somewhat similar to that of yellow or massaman curry but of a thinner consistency. It is popular as a street dish eaten by Thai's in northern Thailand, though not frequently served in Thai restaurants.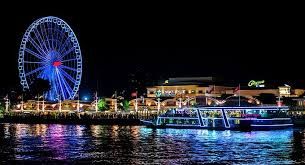 Accommodation in Chiang Mai
My recommendation
Chiangmai Yunhe Cozy Resort **** (Wheelchair accessible and toilets with grab rails)– A resort offering the real northern Thai experience in Chiang Mai, located 12km from Chiang May and only 2km from the Chiang Mai Grand Canyon. The perfect place for those seeking tranquillity in the nature.
Le Meridien Chiang Mai ***** (Wheelchair accessible and toilets with grab rails)– Great choice right in the centre of Chiang Mai and walking distance to all the city attractions. Very spacious rooms, great food and service.
The Empress Premier Chiang Mai ***** (Wheelchair accessible and toilets with grab rails)– Another great choice that left me very surprised when I stayed there last. Spacious, luxurious, quite and discreet environment with great service and food.
The temples of Chiang Mai
Chiang Mai has so many temples and its literally impossible to visit them all, unless you spend a long time in the city. There are countless beautiful temples, and each is different. Sometimes they have a huge Buddha statue, some huge Chedis, some are built of silver and some of wood.I would only recommend 3 to visit and they are:
Wat Umong, a temple inside a forest a little bit outside of the city centre.
The second would be the Wat Sri Suphan. A very beautiful temple which is covered with silver. The entrance is at the Wualai Road.
The third temple to recommend is the Wat Phra Singh with some nice Chedis, a huge reclining Buddha and it's easy to find since it's in the centre of the old town.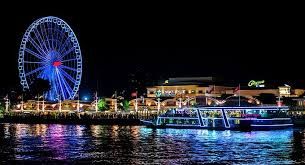 Chiang Mai Jungle Trekking
Chiang Mai is surrounded by an incredibly beautiful and varied landscape and many people come to Chiang Mai to do trekking and hiking. There are countless different providers where you can book the trip and many other things like white-water rafting, swimming in the waterfalls and visiting a Karen (long neck) village, that you often find in the lower mountain areas.

Anusarn Market in the evening (must see)The Anusarn Market is located near the Night Bazaar or Pantip Plaza along the Chang Klan Road. Every evening you can find there many stalls selling clothes and souvenirs.
There are also countless stalls in front of the market along the street where you can buy all kinds of goods. It doesn't matter if you want to buy movies, jerseys or something else – you can find almost everything over here.
Furthermore, there is a daily ladyboy show in the evening and a few massage parlours, which are attracting guests from the market. The Anusarn Market is open daily from 5.00 p.m. until midnight.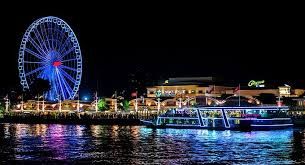 Nimmanhaemin RoadThe Nimmanhaemin Road, often only referred to as Nimman Road, is the classiest and most modern districts of Chiang Mai. You will find countless coffee shops, restaurants, clubs and the area is really popular.
On one end of the street there is the MAYA Lifestyle Shopping Centre and on the other one the Chiang Mai University. It is the trendy district of Chiang Mai. Not only the main street but rather all the side streets where you can find even more coffee shops, bars and many more.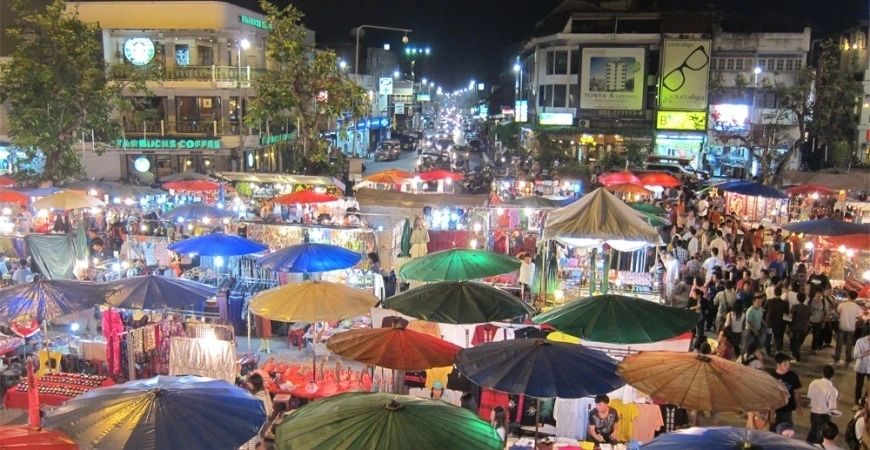 Read More: The Land of Smiles