Boeing 777X Completes First Flight For Dubai Air Show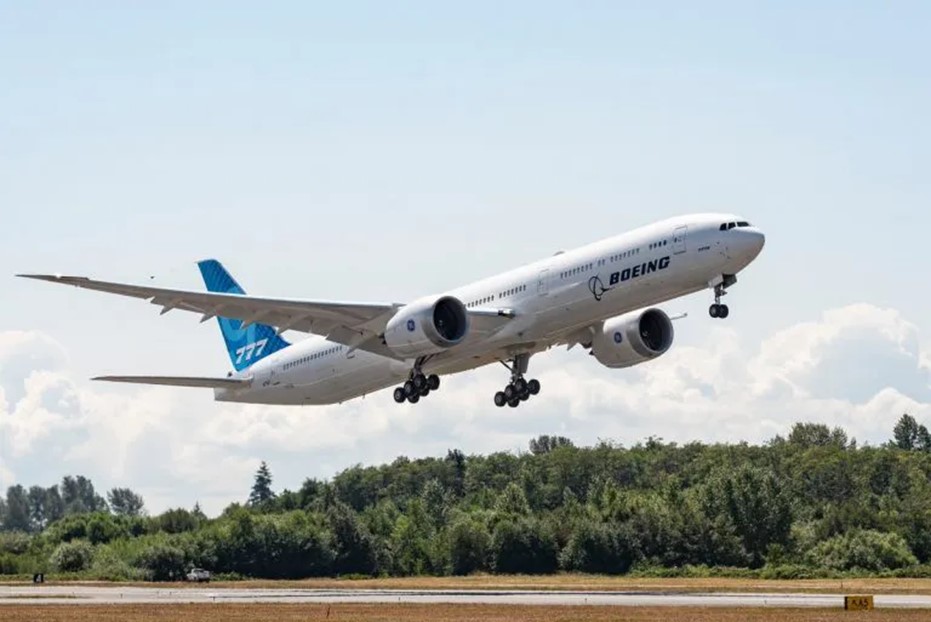 Boeing's 777X aircraft has completed its longest and first international flight to Dubai for the biannual air show.
The 777-9 twin-engine test aircraft flew nonstop for 15 hours from Seattle's Boeing Field to Dubai World Central, landing at 2:02 pm GMT on Tuesday, November 9.
The Dubai Airshow 2021 will be the first major international aircraft trade show to reopen after the COVID-19 pandemic, but with capacity constraints.
The Boeing aircraft will be on "static display and included in the show's flying programme," which started on November 14.
Despite the high-profile postponement of the 2021 Paris Air Show, which was scheduled to take place in June, the Dubai Airshow will continue until November 18, highlighting breakthrough aviation innovations, start-ups, future transportation, and sustainability.
With the UAE government's assistance, the event is poised to take on new heights of strategic significance in the aerospace industry.
This year's event will concentrate on 5G, AI, robots, futuristic transportation, and freight.
Built on previous Boeing models like the 777 and 787 Dreamliner, the 777-9 will become the "world's biggest" twin-engine aircraft with improved fuel economy.
The version was unveiled in 2013 and flew for the first time in January 2020, but multiple delays and mishaps marred its commercial introduction.
In June, the Federal Aviation Administration informed Boeing that the 777X would most likely not be certified until late 2023 due to a lack of data and a preliminary safety evaluation.
According to a letter, it was due to go into service last summer, but the plane isn't ready for its critical Type Inspection Authorization (TIA) readiness clearance.
Over the last year, Emirates, which is the 777X's launch client and will replace its existing 777s, has filed repeated concerns with Boeing about ongoing delays.
The airline has 126 planes on order, but Boeing is two and a half years behind schedule, expecting the aircraft to arrive in June 2020.
Emirates warned in May that if Boeing fails to meet its contractual performance commitments for the 777X, it will refuse delivery of the aircraft.
Sheikh Ahmed bin Saeed Al Maktoum, chairman of the state-owned airline, told Reuters last week that he plans to meet with the planemaker at the Dubai Air Show.
"A conversation will take place… before and during the air show."
Despite a 40% drop in orders for the aircraft in February, Boeing currently claims the 777X family has 351 orders from eight customers throughout the world.
The first deliveries of the aircraft are expected in late 2023, according to Boeing.
Source: World of Aviation