AUSTRALIA HAS COMMENCED CHARGING FOR THE 14-DAYS QUARANTINE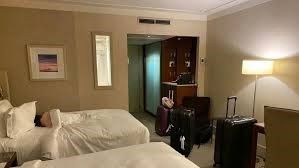 Australian taxpayers will no longer bear the bill for those international travellers arriving in Australia.
As part of the strategy to minimize the spread of coronavirus, Australia closed its borders on 21 March. Only citizens, residents, and students are currently allowed to enter the country, and all passengers arriving are subjected to a 14-day quarantine.
Up until now, passengers have not been charged for the 14-day quarantine, meaning that those returning to Australia were essentially getting free accommodation and food for two weeks. Of course, most people presumably do not actually want to quarantine, but at least they were not out of pocket for the cost.
Australia has started passing on the cost of quarantine to travellers arriving from Saturday 18 July with New South Wales, which is home to Sydney Airport, beginning charging passengers $3,000 for their 14-day quarantine.
Additional occupants will be charged at lower rates, with additional adults costing $1,000 each, additional children costing $500 each, and children under three incurring no additional cost.
Here is how this will be implemented:
This is already in place for arrivals as of Saturday, 18 July 2020
Those who purchased tickets prior to 13 July 2020, will not have to pay
Travellers will be invoiced at the end of their stay and will have to pay within 30 days
There is no registration required, arriving passengers will be automatically directed to a hotel upon arrival
People with financial hardship may apply for a payment plan, while those with significant hardship may receive a reduced fee
As the decision is described, the New South Wales government has so far spent 65 million on quarantine accommodations to house international travellers returning to Australia since March, which has covered over 35,000 travellers. The goal is for the quarantine fee to reduce the financial burden of coronavirus on taxpayers.
As Premier Gladys Berejiklian said, Australians overseas have had three to four months to think about what they want to do, so at this point, it's no longer about Australians returning home who may have been stuck abroad, unlike at the beginning.
The NSW government is currently limiting airlines to carrying a total of 450 international passengers per day into Sydney, and airlines are even limited to carrying 50 passengers per flight.
What's your opinion on the decision for Australia to start charging for the 14-day quarantine?
Joe