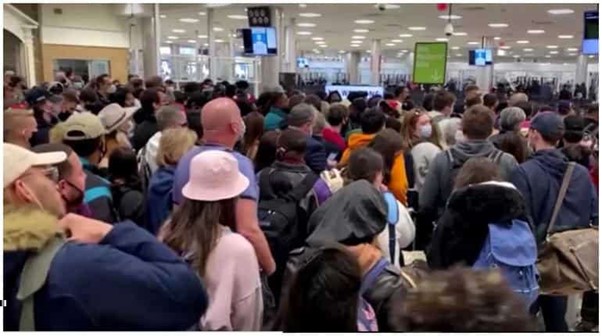 Investigators are still looking for the man who authorities say accidentally fired a firearm at Hartsfield-Jackson International Airport in Atlanta, causing widespread panic among passengers.
So far, there has been no evidence to support the belief that another mass shooting was imminent.
People were filmed running through the airport, knocking down security barriers, and later standing in the parking lot and on the airport tarmac as a result of the chaos that erupted on Saturday morning.
Kenny Wells, 42, was later identified as the suspect by Atlanta police. It has been determined that Wells should be arrested on charges of concealing a weapon at an airport, possession of firearms by a felon, and reckless conduct, all of which are felonies.
As early as 1:30 p.m. ET on Saturday, local and federal authorities said the suspect fled the scene with his gun after TSA officials discovered the weapon in his luggage during an x-ray screening at a safety checkpoint.
After conducting a secondary search of the suspect's belongings and discovering the gun, authorities said.
TSA federal security director for the state of Georgia Robert Spinden said in a press conference on Saturday that "the passenger lunged into his bag, grabbing a firearm that was located inside, which ultimately discharged." "The passenger then fled through an adjacent exit lane with his firearm," Spinden said.
Three non-life-threatening injuries have been reported following the incident, according to initial reports. One person was hurt after tripping and falling during the accident.
"We're fortunate that nobody was seriously injured when the firearm went off," Spinden said.
Later, TSA officials speculated that the other injuries may have occurred somewhere else in the airport as a result of the attack.
The Atlanta Fire Department's deputy chief airport operations Michael Winfrey said that three injuries had been reported, but none of them was related to the self-evacuation of passengers. As a result of our efforts, the airport was able to return to its normal business operations."
The airport reopened around 3:20 p.m. ET after security officials gave the all-clear. It was confirmed by the Federal Aviation Administration (FAA) on Sunday that flights were grounded from 1:38 pm to 2:13 pm on Saturday due to an unspecified problem with the aircraft. Flights were delayed throughout the day as a result of the unrest, officials said.
More than 450 guns have been discovered by TSA officers at Atlanta airport checkpoints so far this year. Due to previous offences and whether or not it was loaded, civil penalties for bringing guns to the airport can vary, according to the agency.
The TSA said in a statement Saturday that the incident "underscores the importance of checking personal belongings for dangerous items before departing for the airport." Guns, particularly loaded guns, pose an unnecessary risk at checkpoints, do not belong in an aeroplane's passenger cabin, and are a costly mistake for passengers who try to board a flight with them.