U.N. Warns The World to Wake Up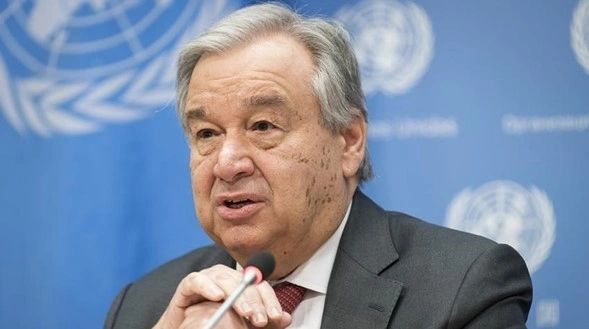 World leaders gathered to the United Nations General Assembly on Tuesday for the first time since the pandemic era began, bringing a strong diplomatic agenda and a blunt warning from the organization's leader: "We confront the worst cascade of crises in our generation."
At the start of the U.N. General Assembly's high-level gathering for leaders of its 193 member nations, Secretary-General Antonio Guterres sounded the alarm. More than a hundred heads of state and government who were barred from attending the United Nations for two years because to COVID-19 are now able to go. However, with the epidemic still raging, about 60 people will make pre-recorded statements in the following days.
We are "on the brink of an abyss — and headed in the wrong direction," Guterres remarked. "Let me go ahead and raise the alarm. People around the world need to wake up.
Guterres asserted that the world has never been more divided and in danger than it is today. "When they witness billionaires joyriding to space while millions go hungry on Earth," people may lose faith not only in their governments and institutions but in fundamental ideals as well. This includes "when they see billionaires joyriding to space while millions go hungry on Earth."
Nevertheless, the U.N. chief said he has hope.
Guterres urged world leaders to bridge six "great divides":
1. Promote peace and end conflicts
2. Restore trust between the richer north and developing south on tackling global warming
3. Reduce the gap between rich and poor
4. Promote gender equality
5. Ensure that the half of humanity that has no access to the Internet is connected by 2030
6. Tackle the generational divide by giving young people "a seat at the table."
World leaders must also deal with escalating US-China tensions, uncertainty over the future of Afghanistan's new Taliban rulers and raging crises in Yemen, Syria and Ethiopia's troubled Tigray area.
The three most anticipated speakers on Tuesday morning are US Vice President Joe Biden, who will make his first appearance at the United Nations since he defeated Donald Trump in the US presidential election last November; Chinese President Xi Jinping, who will surprise everyone with a video address; and Iran's newly elected hardline President Ebrahim Raisi.
Maldivian President Abdulla Shahid challenged delegates to rise to the occasion as he opened the General Assembly's debate. "There are turning points in time," he remarked. "This is one of those moments."
As Biden put it in his speech, this is "an inflection point in history" and the United States "must also engage profoundly with the rest of the world" in order to succeed.
On COVID-19, climate change, and human rights abuses, he called for "relentless diplomacy" and global collaboration, committed to engaging with friends, and stated that the United States was "not seeking a new Cold War."
Secretary-General Guterres warned in an AP interview over the weekend that unless the United States and China heal their "completely broken" relationship, the world could enter a new and more dangerous Cold War.
As a result of harsh criticism from France, the United States' oldest ally, the Biden administration announced last week that it would provide Australia with a nuclear-powered submarine with UK support, upending a French-Australian contract worth at least US$66 billion to build a dozen French conventional diesel-electric submarines.
After Biden's speech, Chinese President Xi Jinping reaffirmed his country's long-standing policy of multilateralism, telling world leaders gathered at the United Nations that international conflicts "ought to be handled via communication and cooperation."
Xi remarked in a taped speech that "one country's prosperity does not have to mean another country's downfall." I believe the globe is large enough for everyone's development and advancement to be compatible.
In an interview with The Associated Press over the weekend, the UN chief said that Washington and Beijing should cooperate on climate change and trade and technology negotiations, but "unfortunately, today we only have a confrontation," including over human rights and geostrategic issues, primarily in the South China Sea.
French Foreign Minister Jean-Yves Le Drian stated at a press conference on Monday that there is a "crisis of trust" between the United States and France, as well as Europe, which has been excluded from the new US-UK-Australia alliance focused on the Indo-Pacific and aimed at confrontation with China. The European Union "should not be left behind," he declared, and hence must define its own strategic goals.
On the most recent speakers list, a deputy prime minister from China was scheduled to speak on Friday. However, the United Nations confirmed on Monday that China's video speech will be delivered instead. Any remarks he makes about the US-UK rivalry will be keenly scrutinised in his speech: The impact of China's global influence and its relationship with the United States can be felt in nearly every country.
Brazil was the first to speak, as is customary. President Jair Bolsonaro refuted criticism of his administration's handling of the virus and cited recent data showing reduced deforestation in the Amazon. By extolling Brazil as an excellent investment location and hailing his public welfare programme for helping to prevent an even worse recession last year, he hoped to offset the media's portrayal of that country.
Many lectures raised concerns about global warming. Increasing temperatures, according to Maldives President Ibrahim Mohamed Solih, are a "death sentence" for his country.
"There's one thing we can count on. The environmental devastation that small island states are currently experiencing will, without a doubt, catch up to larger countries sooner rather than later. Solih cautioned that if the Maldives vanished, no nation would be safe from extinction. However, he added that the United Nations "remains the pinnacle of what coordinated diplomacy can achieve."
In his opening speech, Guterres referred to the "supersized glaring inequalities" sparked by the COVID-19 pandemic, climate alarm bells "ringing at fever pitch," upheavals from Afghanistan to Ethiopia and Yemen undermining global peace, a surge of mistrust and misinformation "polarising people and paralysing societies," and human rights being "under fire."
He lamented the lack of international unity in addressing these and other challenges at a time when it was "most needed." "Instead of humility, we find hubris when confronted with such monumental difficulties."