London Heathrow departure testing begins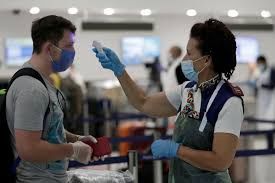 London Heathrow has started departure testing for Covid-19 for flights departing to Hong Kong and Italy. The testing is being undertaken by the airport with partners Collinson and Swissport.
The new testing is available at Terminals 2 and 5. The test is a rapid saliva test, referred to as a Lamp (Loop-mediated Isothermal Amplification). Collinsons says that the facilities will initially offer passengers travelling to Hong Kong and Italy the option to fulfill those countries' pre-departure testing requirements at the airport before they fly. This is because those are the two countries that currently require passengers to provide evidence of a negative Covid test prior to departure and allow for testing technologies such as Lamp and Antigen tests which can easily be administered pre-flight at the airport. These tests are not currently accepted by most countries, which instead require an RT-PCR test which countries such as Cyprus, Greece, the Bahamas, and Bermuda now require to be shown at check-in. The Lamp test will cost £80 and passengers should have the results within 20 minutes.
Collinson says that "Developments in international testing are fast-moving and the Heathrow-based rapid testing sites have the potential to facilitate a wide range of testing methods either pre-departure or on arrival. "
"These facilities will make it easier for passengers going to those countries to get a test and have the potential to provide a service for arriving passengers," said John Holland-Kaye, chief executive of Heathrow.
Collinson and Swissport have already built testing capability or arriving passengers. To read more on this see our previous news stories:
These are not being used because the government has not given them approval, and so passengers returning from countries on the quarantine list would still have to self-isolate for two weeks.
How does it work?
Passengers wanting to use the facility will need to set up an account and book their test online on www.collinsongroup.com, before beginning their journey to the airport.
The tests will be carried out by Collinson nurses in a dedicated facility landside at the airport. During the appointment, a swab will be taken for testing, which is processed immediately using a new Lamp-based method developed by Oxford University and processed onsite at the airport by staff from one of Collinson's biotech partners, Prenetics.
"With countries around the world adding the UK to their list of 'high risk' countries, we need to find a way to work with governments, leading travel brands and other commercial entities to safely open up travel out of the UK," says David Evans, Joint CEO at Collinson.
"Government restrictions around the world will continue to fluctuate, but we, with our medical services and biotech partner network, have the capability to flex our offering to bespoke country needs, ensuring that, whatever the restriction, we can provide a way to keep travel moving, safely, without negatively impacting UK public testing capacity.
Surely, we would hope that a similar service would be developed at airports around Australia as well as all major airports around the world. Whether the cost of the test will be borne by the customer or the airlines that is unknown, I suspect the cost of such a test to be passed on to travellers as airlines will find it hard to bear the additional cost that would further compromise their profitability on a route.