Hunter Valley Break Review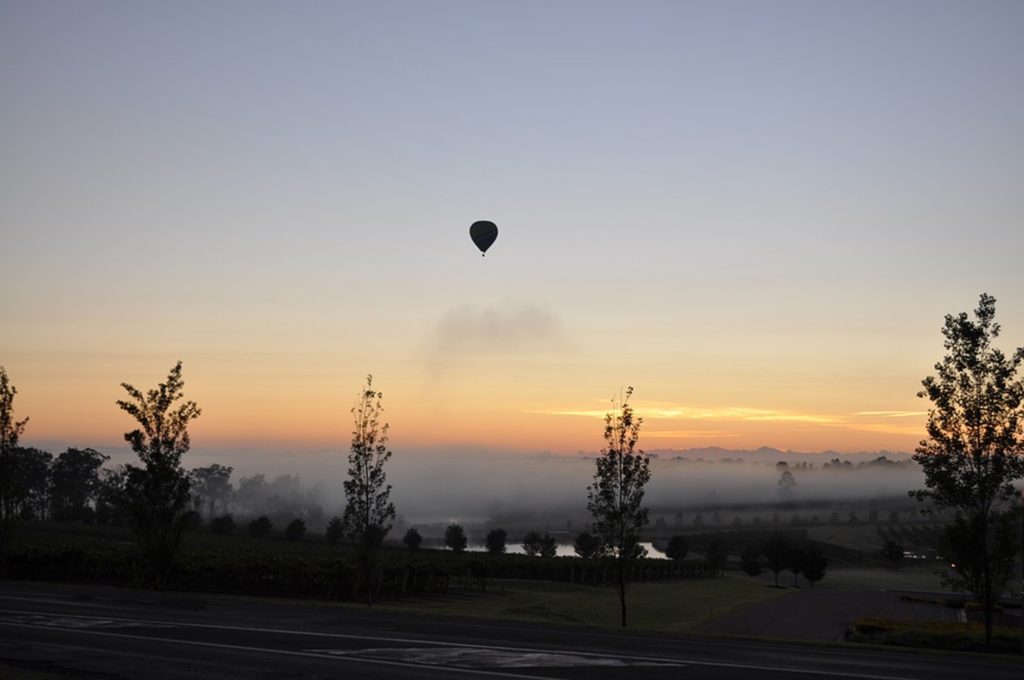 Well! It's been more than 2 months since I published my last story on Stray Nomad; my studies had to take priority, and I had to make the difficult decision to take a break from writing; however, I'm back now, and I'm planning to reduce the number of stories that I publish every day so that I can continue my studies in an organised manner.
Three weeks ago, I decided I needed a short break and wanted to get away from Sydney to my favourite place, the Hunter Valley, but I had missed the boat by booking before the long weekend and couldn't find any availability until after the long weekend, so I booked a midweek getaway Tue-Fri at the Estate Tuscany in Pokolbin and off I went. By the way, I booked using Expedia, where I discovered the best deal and a hassle-free experience.
I had a smooth trip up to the Hunter on a sunny Tuesday morning, with very little traffic, and I hadn't been there in a few years, but the M1 Pacific Highway hasn't changed much, with the road surface still in terrible condition from the Ourimbah exit up to the Hunter Expressway entry. Perhaps the state government should invest some money in converting the concrete road surface to tar and making it less rough. After all, the Pacific Highway is one of Australia's busiest.
When I arrived to Estate Tuscany, the site had certain aspects that reminded me a little of Tuscany, but it wasn't quite there with Tuscany, which I wasn't anticipating given how far away the estate is from Italy. Since I am partially disabled, I notice immediately the things that can affect me. The reception is not accessible for the disabled, I had to park just outside and call the estate to ask one of the check-in staff to come out and check me into my room.  The welcoming was excellent, and I was checked in and assisted in getting my bag into my room.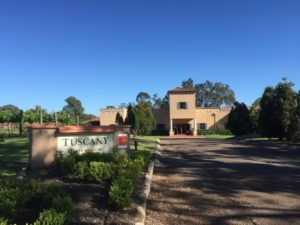 I checked into an accessible room as requested, there was a small ramp on the kerb to get to the front door of the room and another small step to access the room, and if it hadn't been for my ability to do wheelies, I would have had difficulty accessing the room, so in short, accessible but not 100%. Having said that, the room inside was huge, with an accessible bathroom and shower, but it was quite dark, since the only light came from a very small door facing the backyard, and it wasn't much light at all.
I discovered that the restaurant and bar were not attached to the accommodation, and getting there with the wheelchair wasn't easy, so I had no choice but to load my wheelchair in the car and drive up to the bar and restaurant, then get my wheelchair out and wheel myself in, and repeat the process when I returned to the room. So, what was I looking forwards to doing over the following four days? Nooop!!
After going out for the afternoon to Pokolbin Village for a bite and some wine to experience the Hunter Valley wine and food festival, I returned late afternoon to the estate and in the evening I decided to venture out to the bar for a drink before having dinner, but when I opened the front door outside was peach black with no light and I decided that getting to my car, loading my chair, driving to the restaurant, and repeating the whole thing after dinner and a couple of glasses of wine was too risky, so I decided to unwillingly stay in the room.
After going out for the afternoon to Pokolbin Village for a bite and some wine to experience the Hunter Valley wine and food festival, I returned late afternoon to the estate and in the evening I decided to venture out to the bar for a drink before having dinner, but when I opened the front door outside was peach black with no light and I decided that getting to my car, loading my chair, driving to the restaurant, and repeating the whole thing after dinner and a couple of glasses of wine was too risky, so I decided reluctantly to stay in the room and skip the fun.
The next morning, I complained to reception about the lack of lighting outside the room at night and the inconvenient distance between the room and the restaurant for me. I asked if they could move me to one of the many rooms next to the restaurant that would be ideal for me, but I was told that those rooms were all occupied and that there were no disabled-friendly rooms up there.
When I went to breakfast, I asked to talk with the General Manager, who wasn't there but promised to call me back as soon as she could. After I described the situation, she apologised for the lighting problem and promptly offered me a room near to the bar and restaurant, which wasn't totally accessible but had enough room and was ideal for me. Would not be suitable for someone with a severe disability and limited mobility.
After all, I had no doubt that I could have been given a room closer to the restaurant because the estate had a very low occupancy following the long weekend break, as indicated by several of their workers previous to my speaking with the GM, and it was also very noticeable at the bar and restaurant.
The new room was nicer, had more lighting, and an outside tiny patio overlooking the vineyards, so if you don't require an accessible room, you'll be safe and receive good rooms, and maybe the lighting issue on the estate's side where the accessible room is will be solved soon.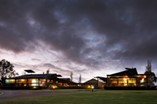 The bar and restaurants were excellent for breakfast, cocktails, and dinner; there are several breakfast options served at the table rather than a buffet, which I prefer. Excellent continental breakfast with cereal, fruit, yoghurt, viennoiserie pastry, and toast with jam is available. "Estate Tuscany Breakfast with eggs made to order, bacon, sausage, baked beans with mushrooms, grilled tomato with hash brown and toast" is the second option.
Lunch at the Brokenback bar is fantastic, with a decent selection of simple dishes like pizza and other entrees, as well as really good cocktails and, of course, wines, being in the Hunter!
Dinner at The Mill Restaurant is cosy, with a large fireplace and a nice menu that starts at $73 PP for two dishes, $83 for three courses, and $110 for five courses. If you want matching wines with each course, pay $60 per person.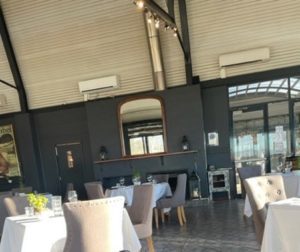 Estate Tuscany gets an excellent rating from me, with some room for improvement in areas that are not broad but specific, therefore I highly recommend placing Estate Tuscany on your list for your next stay.
I will not list all of the wineries that I visited; instead, I will select a couple of my personal favourites.
Pigs Peake Winery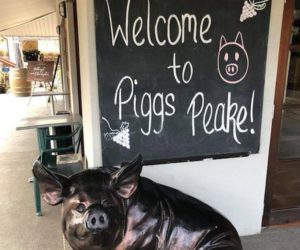 This is without a doubt the best red wine in the area. Nobody else compares. You won't be disappointed if you like your reds big and silky taste. Pigs blood and House of Sticks are fantastic, also try Wolfie or Geez Louis and you'll be loving these wines forever.
However, Tim convinced me to sample their Pig Juice, which is a Sparkling Shiraz, and I must say that it was a smack in the face full of awesomeness! I'm not a big fan of sparkling shiraz, but this is by far the nicest I've experienced.
Then there was time for the Pigbrusco, which was comparable to the Italian Lambrusco but with a more delicate sparkle and a wonderful, sweet taste with a cherry suggestion.
The crown gem was the "Iswine" or "Ice wine," a German sort of dessert wine made from grapes that had been frozen while still on the vine. The sugars and other dissolved particles do not freeze, but the water does, allowing for the formation of a more concentrated grape juice. This is a terrific hit for dessert wine fans.
Pigs Peake wines are not available at bottle shops. Members can only purchase it at the cellar door or online.
Bimbadgen Estate Winery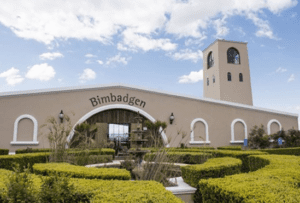 This is another of my favourite wineries, which also includes a terrific award-winning restaurant called "Esca," which means "Bait" in Italian, and Bimbadgen Wood Fire Pizza Bar, which makes the best crusty pizza in the area.
Bimbadgen produces some of the finest wines, and my favourites are their limited-release wines, MCA Art Edition, Members Collection, and Reserve. Great Hunter Valley Shiraz, Chardonnay, and Semillon, but if you're looking for something special, try their Bimbadgen Single Vineyard Shiraz, Chardonnay, or Viognier. Aside from their fantastic reds, one of my personal favourites is their Art Collection Riesling, which is perfectly balanced between dry and sweet. Wine tasting is not free and costs $10 per person, but it is well worth it.
Wine and Food Festival
I was fortunate to be there during the Hunter Valley Wine & Food Festival, which has returned after a hiatus due to Covid and is running throughout the month of June with plenty of temptation for anyone eager to delight their palate. The Hunter Valley Wine & Food Festival celebrates the region's exceptional wines and local products.
Gourmet lunches and winery dinners, winemaking, blending, and cellaring masterclasses, wine and food pairings, and many other events and activities can be found on the Hunter Valley website.
Final verdict
It was nice to be back in the Hunter after a few years away, even though I realise that during the week in winter, particularly after a long weekend, the Hunter is quiet, however, it still maintains its charm and on sunny days driving through and stopping for lunch at a café and enjoying the breathtaking scenery is truly magic.  The wineries have adopted some inventive craft and have come out with superb wines and blends of grapes originating from other areas of the world but cultivated right in the Hunter. The dining scene has undoubtedly transformed, with a variety of outstanding restaurants and cafes highlighting local wines and fresh produce.
My four-day trip to the Hunter Valley was packed with relaxation, superb wine and cuisine, and breathtaking scenery, a great truly great quick getaway.
Before you plan a trip to the Hunter Valley, consider these suggestions.
Try to book well in advance to secure your preferred accommodation at the best price.
Cellar door wine tasting and offers can be reserved in advance.
Some vineyards charge a fee for your tasting experience. This cost can be redeemed at some vineyards when purchasing wine or items at the cellar door.
Before you go, do some research on the type of wine experiences you're looking for, as the Hunter Valley can offer a variety of them.
Allow the recommended amount of time to fully appreciate your tasting experience.
Try other local produce, don't just stick to wine as the Hunter has an abundance of goodness.