Enchanting Oman! The best secret of the Arabian Peninsula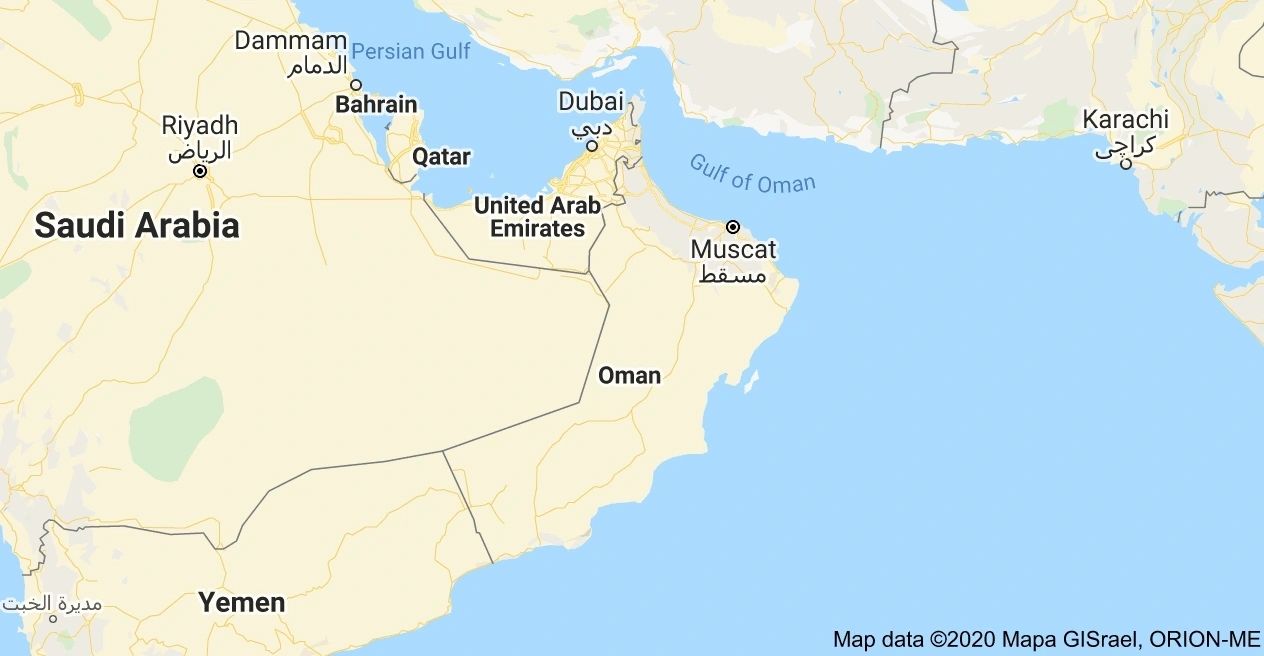 On the edge of the Arabian Peninsula, you'll find the Sultanate of Oman. Often overlooked by travellers, Oman is an exotic destination filled with incredible beauty and true Arabian architecture and fascinating and diverse cities.
I have been fortunate enough to have lived and worked in Oman for almost 4 years and personally I consider Oman like home, but in addition and without a doubt, it is the friendliest and most beautiful country in the Arabian Peninsula. I moved from Muscat to Bangkok in 2016 and Oman remains in my heart with wonderful memories and good friends.
My introduction to Oman is based from a local point of view rather than a tourist point of view. Very often when I had the chance, I travelled within Oman and visited lots of place and stayed in many hotels and have seen most of the tourist attractions.
The capital of the Sultanate, Muscat is not one of the most popular destinations, so don't expect to see the skyscrapers and the luxurious shopping malls that you see in some neighbouring countries, rather Muscat is more cultural and truly Arabian, it only contains a small part of what makes Oman great but every attraction is a must see!
Unfortunately, Muscat does not have good accessibility for disabled, therefore venturing out when the weather permits can be quite challenging for a disabled. I strongly suggest when you book a city tour, to mention that you like to visit only accessible places and those places that you can not access you may limit yourself in just taking some photos from outside. Hotels and resorts are mostly very accessible, just double check when you book.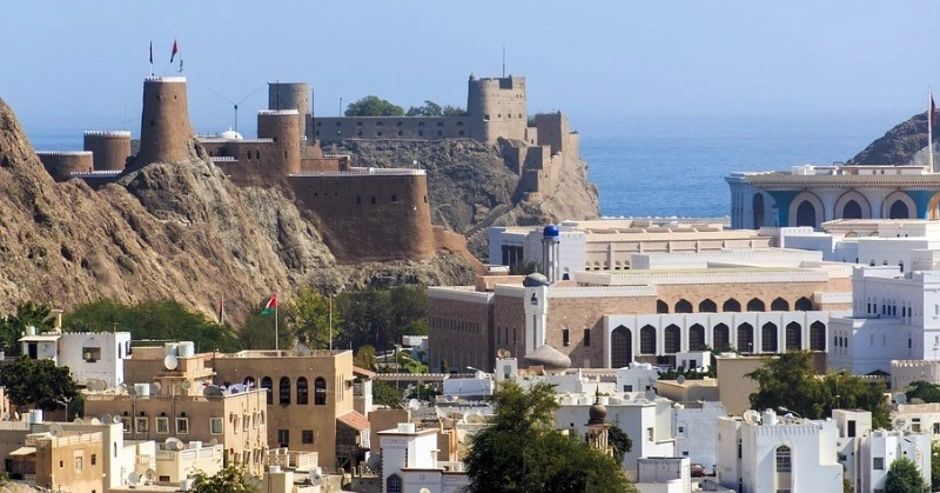 At a Glanze
Time – The Sultanate of Oman is four hours ahead of UCT (Universal Coordinated Time, formerly known as GMT). `
Electricity plugs – In Oman the power plugs and sockets are of type G. The standard voltage is 240 V and the standard frequency is 50 Hz.
Currency – RO.1 = AU$ 3.87 (1000 Baiza = 1 RO)
Credit Cards – Credit cards such as American Express, Visa MasterCard and Diners club are available through global network branches and accepted in shopping areas.
Language – The official language is Arabic, however English is widely spoken
Religion – Islam, predominantly Ibadhi sect.
Ramadan – For one month a year, Muslims abstains from eating, drinking and smoking from dawn to dusk. Although non –Muslims are not expected to fast, they are expected to show respect by not eating, drinking and smoking in public.
Official Working Hours – The working week in Oman is from Sunday to Thursday between 7am and 3pm (with exception to the Banking sector, some companies and Capital Market). During the holy month of Ramadan, the working hours are 9am to 2pm for Muslims only.
Local Transport – The state-owned bus company, ONTC has the franchise to operate public services throughout the Sultanate. Taxi services run by the private sector and are also well developed and there is an excellent network of minibuses operating as service taxis linking up the major centres.
Health & Medical Care – No compulsory immunizations are required to enter Oman
Disable Accessibility – Unfortunately Oman tourist attractions are not very accessible for disabled simply because of their ancient architecture design which cannot be modified, however recent landmark like the Grand Mosque has good disabled accessibility. Most of the 5- and 4-star's hotels and resorts and shopping malls are disable friendly.
Water – Tap water is desalinated, and although it's safe to drink, it's not recommended. Mineral water is commonly consumed in hotels and restaurants, and can be purchased in most grocery stores, petrol stations and supermarkets.
Dress code – The Omani dress code should be followed by everyone entering the country. You don't have to wear what Omani's traditional attire but be sure to dress modestly and avoid exposing your shoulder, knees, chest, and other sensitive parts of the body.
Road Services – Well maintained highways link every major city in Oman. Information relating to Car Rental facilities (International Driving License required)
Emergency number – In the event of an emergency, dial 9999 for an ambulance or to call the police.
Crime and personal safety – Oman is an extremely safe country. Violent crime is very rare.
Photography – Don't take photographs of people without asking or you risk causing considerable offence, especially if taking photos of ladies without permission. Men will probably be happy to oblige, women a little less, while children of either sex will usually be delighted.
Smoking – Smoking is not permitted inside cafés, restaurants, bars, malls, offices and other public areas, although it's usually permitted on the outdoor terraces of bars and restaurants.
Climate – Oman's climate varies considerably with the different regions, but sunny blue skies and warm temperatures can be expected most of the year. From May until September temperature range from high 30's to mid-40's sometimes with high humidity.
Airport – Muscat new international airport is a brand-new state of the art airport and serves many international airlines. The national carrier is Oman Air, which flies to many International and domestic destinations such as Salalah, Masirah Island and Musandam.
Getting There – Oman Air, the national carrier of the Sultanate of Oman does not fly to Australia, however they have a code-share arrangement with Malaysia Airline and their airfares to Muscat are a combined service of Malaysia Airline to Kuala Lumpur and Oman Air from Kuala Lumpur to Muscat. These services are daily.
Dos and Don'ts and How to behave in Oman
Dress code – Yes, the Omani dress code should be followed by everyone entering the country. You don't have to wear what Omanis wear but be sure to dress modestly and avoid exposing your shoulder, knees, chest, and other sensitive parts of the body.
Speak with decency – When you are in the street or public places, you should watch out for words. Omani's maintain a peaceful and civil environment of the country. They don't blow their horns, and they don't speak loudly on streets. If you have something to share to your friend or family, be sure to speak with decency as a sign of respect to Omanis.
Alcohol and drugs are restricted – Oman is like the other Middle Eastern countries where alcoholic drinks and drugs are restricted. Alcohol is not totally banned but it's not permissible to drink in public places and streets. Alcohol is sold only in liquor shops where only non-Muslim expat with a valid police permit can buy. Tourist can drink in licensed hotels, resorts and restaurants.
Respect the mosques – One way you can respect the mosques is by taking your shoes off when entering the building. Yes, there are mosques where non-Muslims are allowed like the Grand Mosque or Sultan Qaboos Mosque.
Accept Omani invitations – Omanis are so hospitable that they invite even strangers to their home. If you encounter a family who's offering their homemade meals and sweet, accept them. Omanis feel appreciated when visitors accept what is offered to them.
No Public show of affection – While considering the things not to do in Oman, public display of affection should be written in bold Red. It is considered a crime. The Omani laws for all kinds of PDA are extremely strict.
Don't disrespect tourist sites – Omani's keep their country peaceful and clean. Not only the tourist's attractions and famous sites, but also the streets, gardens and souks in every region in Oman. Visitors must always keep everything as clean as they found it.
If you get thrilled by desert landscapes, incredible mountain ranges, historic forts and gorgeous beaches throughout the year, then make Oman your next destination of your dream holidays.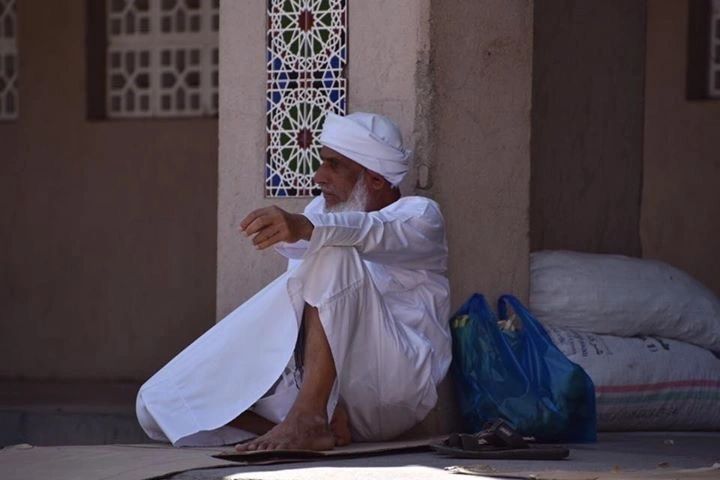 MUSCAT
Is not only the capital city of Oman, but it also combines both natural and architectural beauty in every corner of its land. It has marvelous beaches like Al Qurum and Al Bustan, the Royal Opera House, and famous hotels and boutique hotels. Wherever you go in Muscat, you will find a unique activity to do or a mind-blowing natural place to enjoy.
The Governorate of Muscat, is made of six Wilayat (Provinces) and those are: Alamarat, Bawshar, Muscat (Old Town), Muttrah, Qurayyat and Al Seeb.
The Sultan Qaboos Street forms the main artery of Muscat, running west-to-east through the city. The street eventually becomes Al Nahdah Street near Wattayah. Several inter-city roads such as Nizwa Road and Al Amrat Road, intersect with Sultan Qaboos Road in Rusail and Ruwi, respectively. Muttrah, with the Muscat Harbour, Corniche, and Mina Qaboos, is located in the north-eastern coastline of the city, adjacent to the Gulf of Oman. Other coastal districts of Muscat include Darsait, Mina Al Fahal, Ras Al Hamar, Qurum Heights, Al Khuwair, and Al Seeb.
Residential and commercial districts further inland include Al Hamriyah, Wadi Kabir, Ruwi, Wattayah, Madinat Qaboos, Al Azaiba and Al Ghubra.
Tourism
Tourism has experienced a considerable growth in the past 8 years, not only in Muscat, but also in the other parts of Oman. The country has an abundance of natural beauty, from spectacular rugged mountains to serene deserts, from tranquil wadis to a pristine coastline. If you think of Muscat of another Dubai, then you are wrong. There are few high-rise blocks in Muscat and all the buildings reflect the sultanate's heritage, an arabesque pattern here and a dome there. The capital is a port city sitting on the Gulf of Oman and surrounded by mountains and desert. It is attractive and clean, although quite uniform.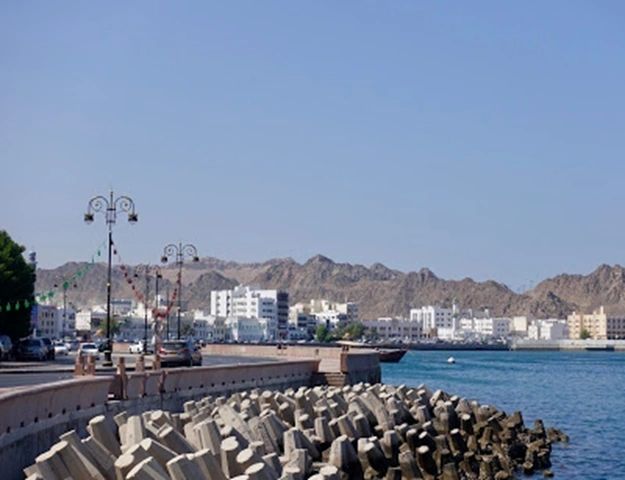 Here is an overview of the best places to visit in Oman
Sultan Qaboos Grand Mosque
The Grand Mosque is the most famous of the Sultan Qaboos mosques that are built in different cities around the country. It was built in Bausher in Muscat in 2001. The main musalla can hold over 6500 worshippers, while the women's musalla can accommodate 750 worshipers. The outer paved ground can hold 8000 worshipers and there is additional space available in the interior courtyard and the passageways, making a total capacity of up to 20,000 worshipers.
A major feature of the design of the interior is the prayer carpet which covers the floor of the prayer hall, it weighs 21 tonnes and took four years to produce.
The Italian designed and manufactured chandelier above the praying hall is 14 metres tall. Thirty-four smaller chandeliers of the same design are hung in other parts of the building. Accessible by wheelchair.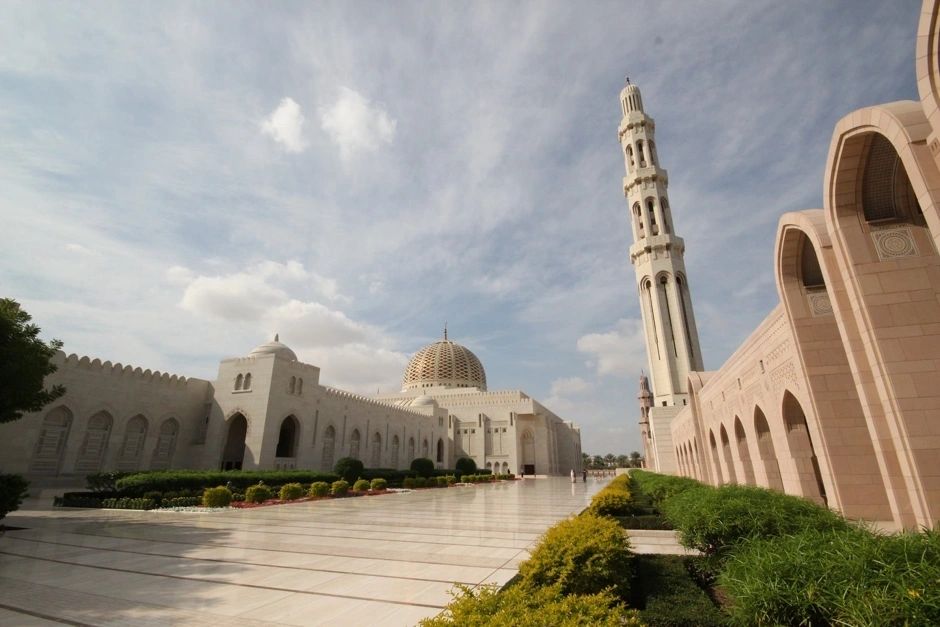 The late Sultan Qaboos bin Said Al Said was very passionate and a big fan of classical music and arts. In 2001, the sultan ordered the building of an opera house. Initially called 'House of Musical Arts', the name 'Royal Opera House Muscat (ROHM)' was finally chosen and it was built in 2011, it is located in the area of Shatti Al Qurum suburb of Muscat. The Royal Opera House is the main venue for arts in the capital city of Muscat and offers various international performances. Accessible by wheelchair.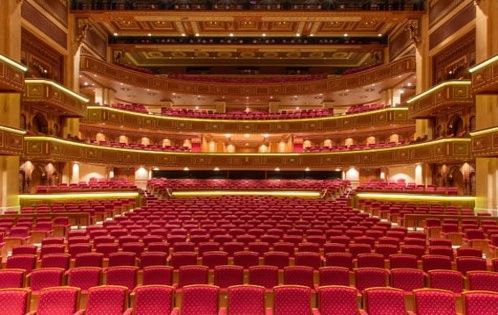 Mutrah Souq
Muttrah is one of the six Wilayat (provinces) of the Governorate of Muscat. The Muttrah Souq is a traditional local market located on the Corniche of Muttrah and consists of several small shops that sell typical Omani products such as, traditional clothes, fabric, jewellery, souvenirs, local groceries products and other home ware products. Mutrah Souq is accessible by wheelchair, sometimes with steps at the end somtimes just another path to follow but there are always friendly people that will help if needed.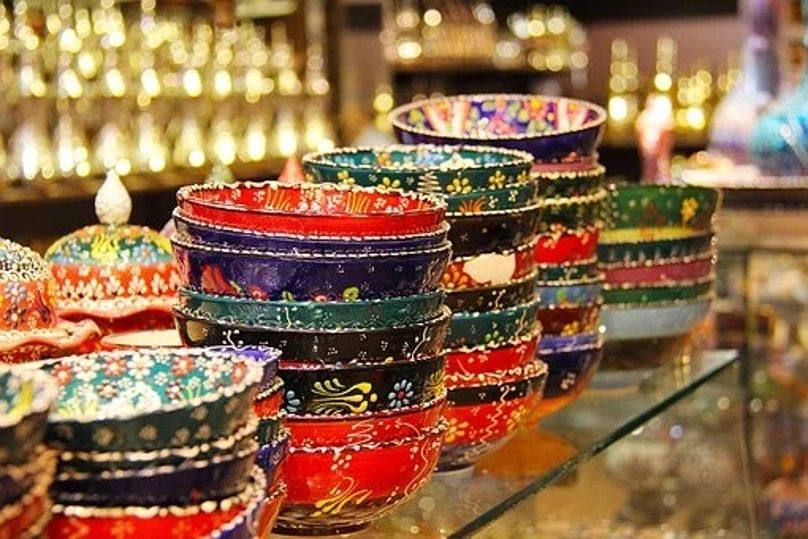 The National Museum of Oman
The National Museum was established in 2016 in Muscat as a showcase for Omani heritage. Covering an area of 13,700 square meters, the museum has several galleries that explains the history and culture of Oman, along with big electronic monitors that brings the exhibited crafts to life.
The galleries inside the museum are divided as follows: Oman and the World, Intangible Heritage, The Land and the People, Maritime History, Prehistory and Ancient History, Splendours of Islam, Arms and Armour, Aflaj, Renaissance, Currency, and others.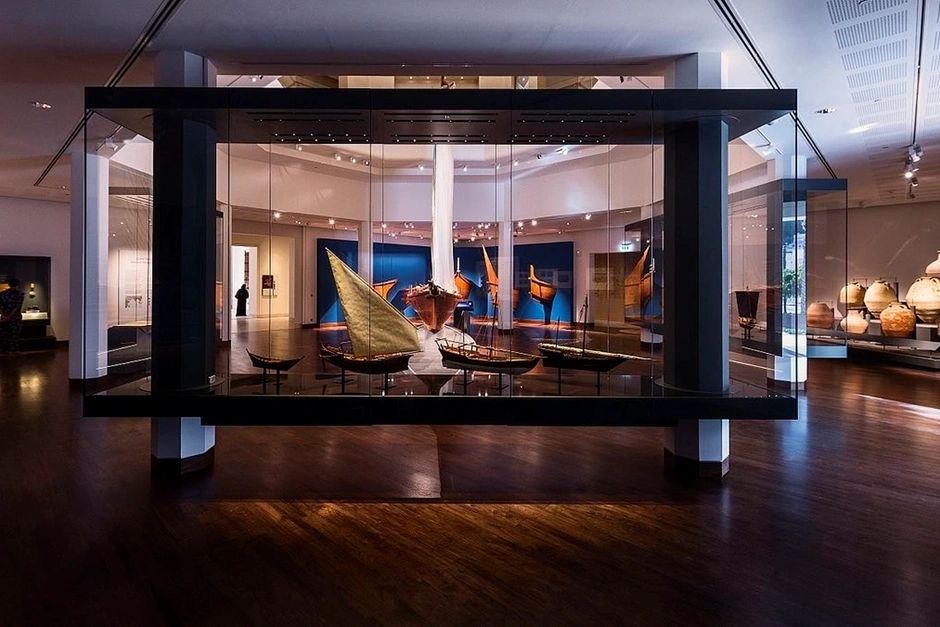 Old Muscat
Old Muscat is situated at the far eastern end of the capital. It can be reached from Mutrah Souq by a walk along the Corniche (waterfront) of about an hour, which actually is a nice thing to do. Old Muscat is guarded by two forts on either side of the Royal Palace of Al Alam, the home of Sultan Qaboos. The old town has recently undergone a face-lift and is attractive to look at.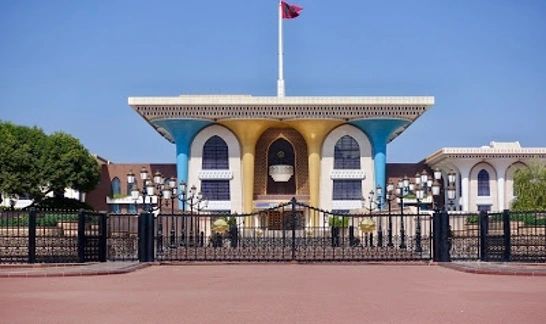 Shatti Al Qurum, or Al Qurum beach – is one of the longest beaches in Oman. It lies in the capital of Muscat on the northern coast. It is one of the busiest beaches, as there are numerous cafés, restaurants, shopping malls and hotels located nearby. Disable accessible, this beachfront road is perfect for stroll on a wheelchair, to enjoy the view and a coffee.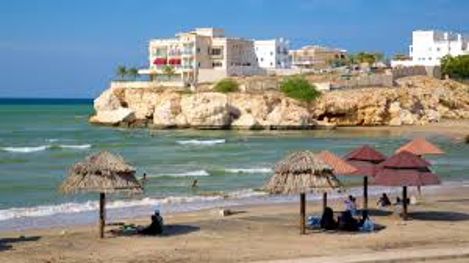 Where to stay in Muscat
I have chosen the following hotels as I have experienced all of them myself except the W Muscat, and they are all wheelchair accessible and offering a truly memorable experience and stay in Muscat.
1. Hotel Al Bustan Palace ***** (Wheelchair Accessible)
Set against the Al Hajar mountains overlooking the Sea of Oman, this 5-star luxury resort offers a unique palace experience, showcasing the art of Omani hospitality. Located on a 1 km long private beachfront, the longest in Muscat.
2. Kempinski Hotel Muscat ***** (Wheelchair Accessible)
Nestled within the coastline community of Al Mouj and 'the new heart of Muscat' the five-star beachfront hotel will be an unparalleled luxury destination in Oman's captivating capital.
3. Shangri-La Barr al Jissah***** (Wheelchair Accessible)
Nestled against the dramatic backdrop of rugged mountains and pristine waters of the Gulf of Oman, Shangri-La Barr Al Jissah Resort & Spa consists of two hotels, Al Bandar and Al Waha. Located 40km from Muscat International Airport and 19Km from Shatti Al Qurum.
4. Shangri-La Al Husn Resort & Spa ***** (Wheelchair Accessible)
Al Husn – meaning the Castle – has 180 guestrooms and is an exclusive adult only hotel (yes kids are not allowed) with its own private beach. The rooms are amongst the largest and most luxurious in Oman, with an inviting décor inspired by royal Arabian palaces and accented by authentic Omani artworks. Located 40km from Muscat International Airport and 19Km from Shatti Al Qurum.
5. The Chedi Muscat ***** (Wheelchair Accessible)
This 5-star beachfront resort in Muscat is a 15-minute drive from Muscat International Airport. It is to my taste the most exclusive resort in Muscat. It has a spa with massage services which offers an extensive variety of beauty rituals based on the holistic principles of aromatherapy, Ayurveda and herbalism. swimming pools.
6. W Muscat ***** (Wheelchair Accessible)
Set in Shatti Al Qurum Beach in Muscat, W Muscat features an outdoor swimming pool. Some rooms boast sea views and others garden views. W Muscat is situated a 15-minute drive from the Old Souq, Mattrah Corniche and Sultan Qaboos Grand Mosque. Muscat Old Town.
Other Place to visit in Oman
Forts and castles – Oman has a unique heritage, and its ancient history and culture can be appreciated through the different forts and castles on its lands. A visit to Oman must accompany a walk through this heritage, which can be witnessed in Nakhal Fort, Nizwa Fort, Jibreen Castle, Al Hazm Fort, Al Rustaq Fort and many others in every corner of Oman.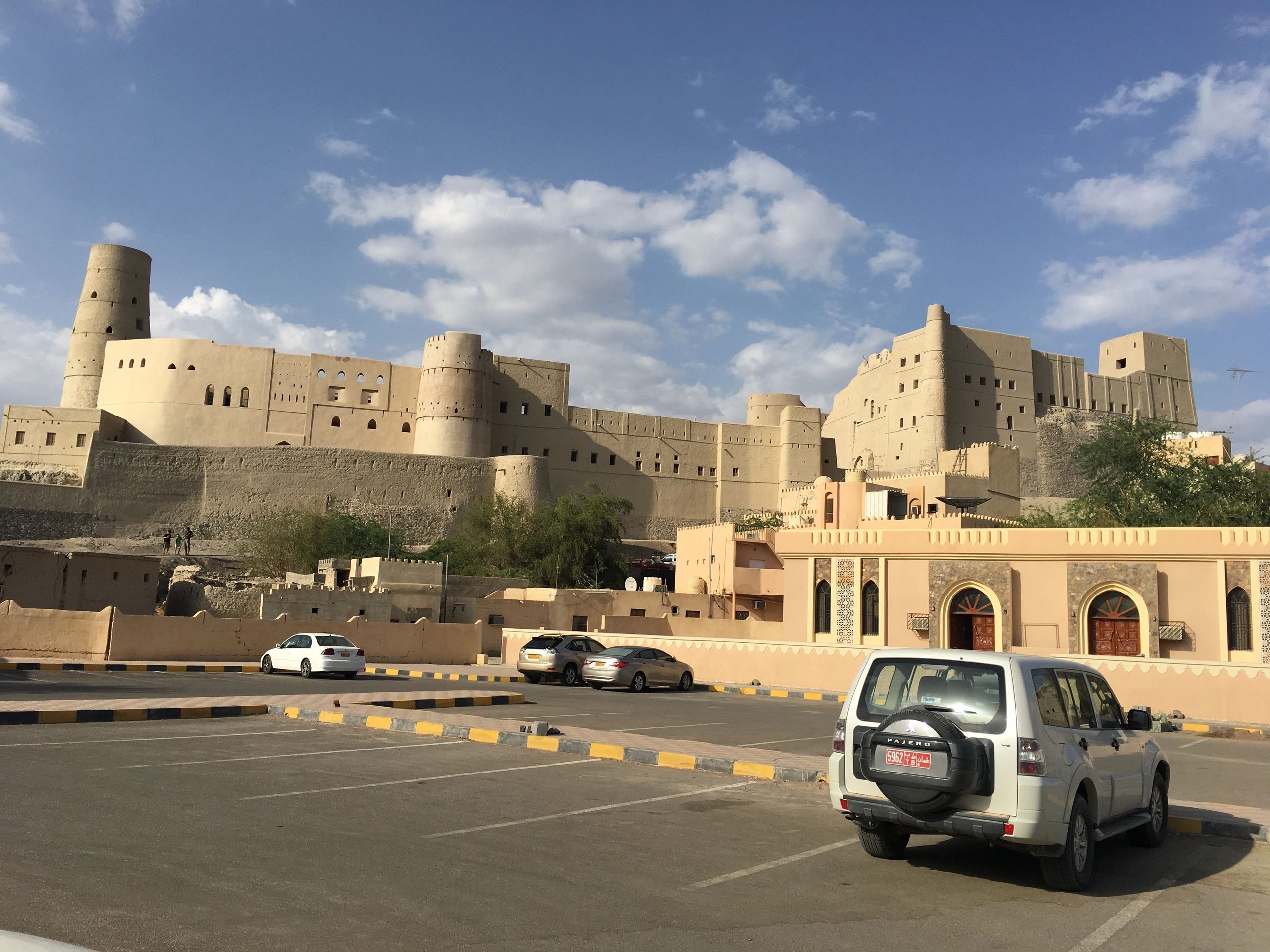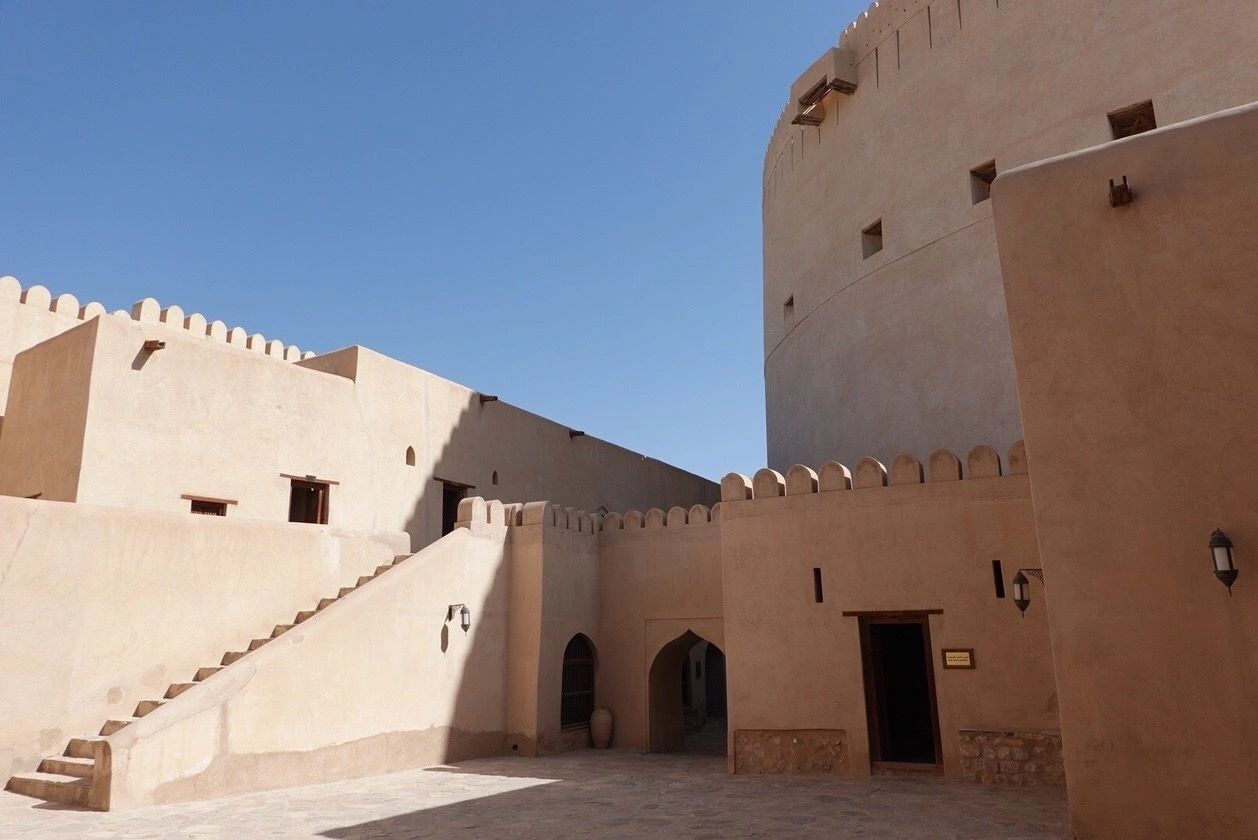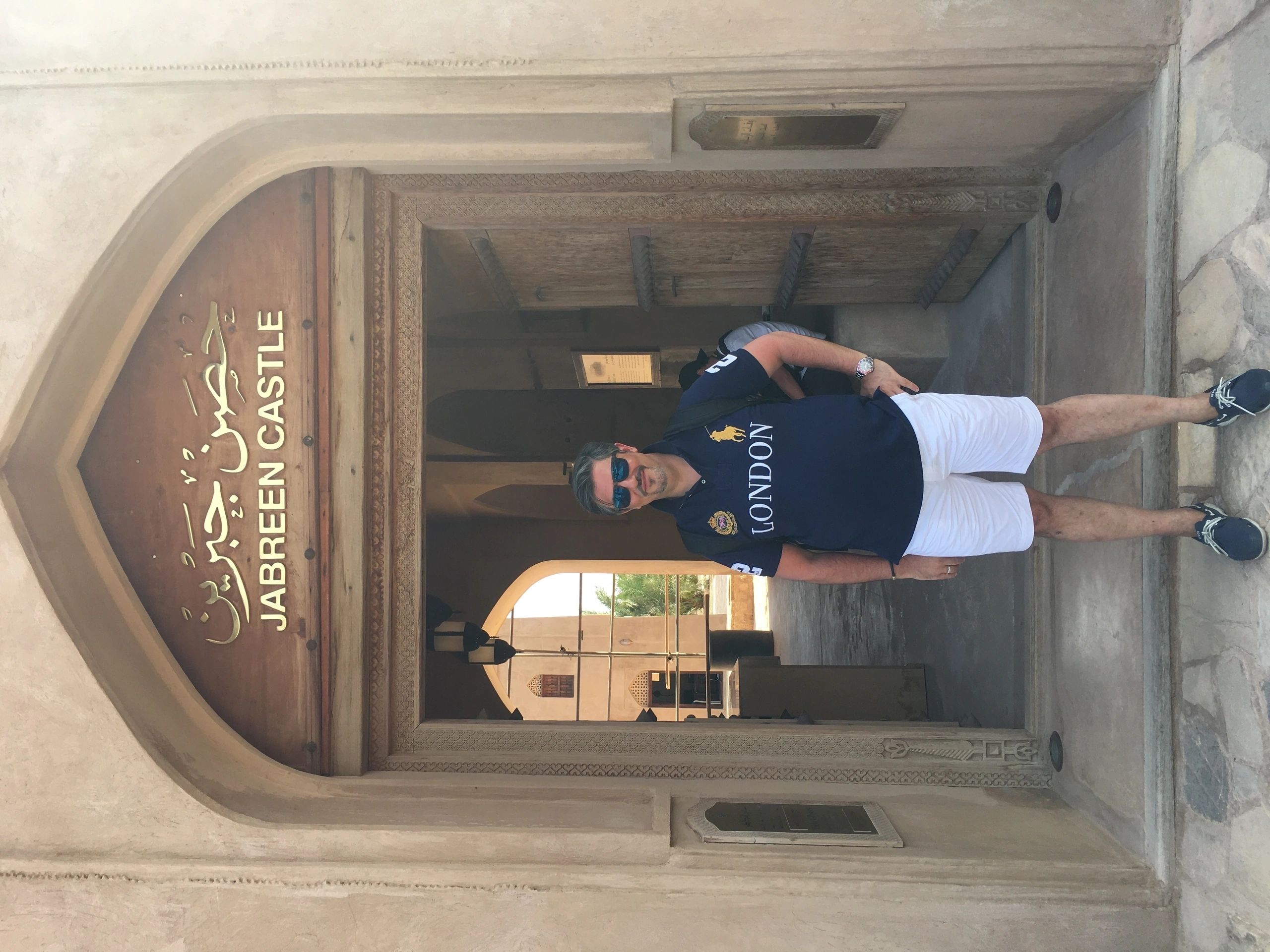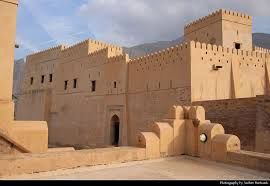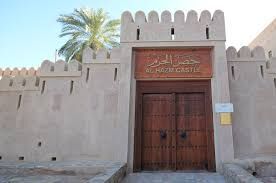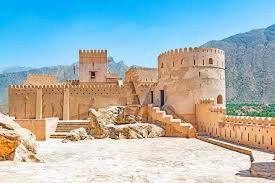 Wadi Bani Khalid – can be fairly called a natural green and colourful paradise on Earth. The wadi (valley) is located in the Al Sharqiyah Region and has several water pools as well as a spring (ayn in Arabic) that keeps water flowing inside the wadi all year long. Wadi Bani Khalid also has several villages inside and colourful plantations among its lands. With all of that and the uniquely red rock formations.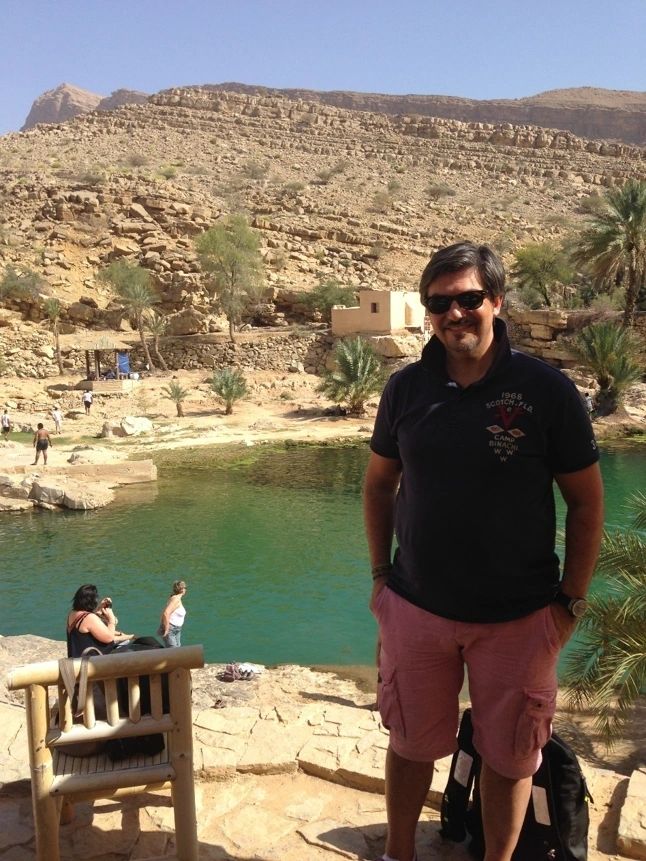 Is in the city of Ras Al Hadd in eastern Oman. It is a natural reserve for endangered green turtles where around 20,000 females return to every year to lay their eggs. Beside the marvellous beach, crystal waters and golden sands of Ras Al Jinz, visitors can enjoy watching the turtles digging their nests and laying eggs, and even see the small turtles hatch their eggs and head back to the sea. This amazing experience can be booked with "Ras al Jinz Turtle Reserve", which offers accommodation is 31 units including Carapace rooms and the luxury Eco-tents located right on the beach.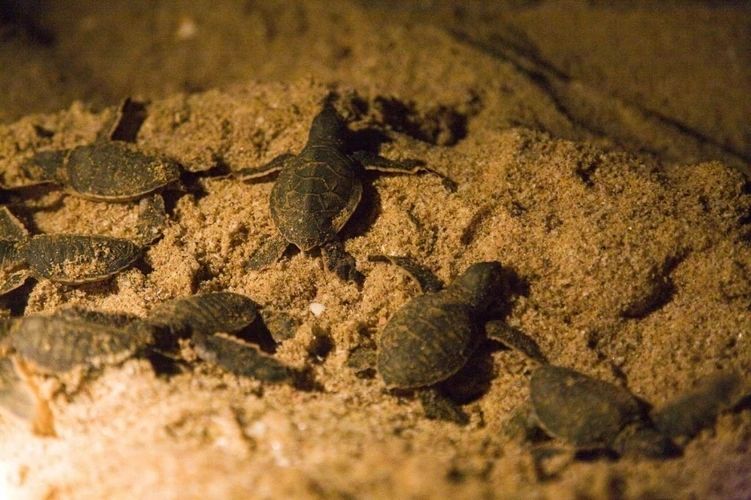 Jebel Al Akhdar meaning "the Green Mountain", is one of the marvellous mountains that is part of the Al Hajar range in the Al Dakhliya Governorate. It is named after the green areas and plantations covering its rocky lands. The mountain has several hiking trails, and villages where people raise animals and farm. Jebel Akhdar is famous for its labyrinth of wadis and terraced orchards, where pomegranates, apricots and roses grow in abundance due to its mild climate.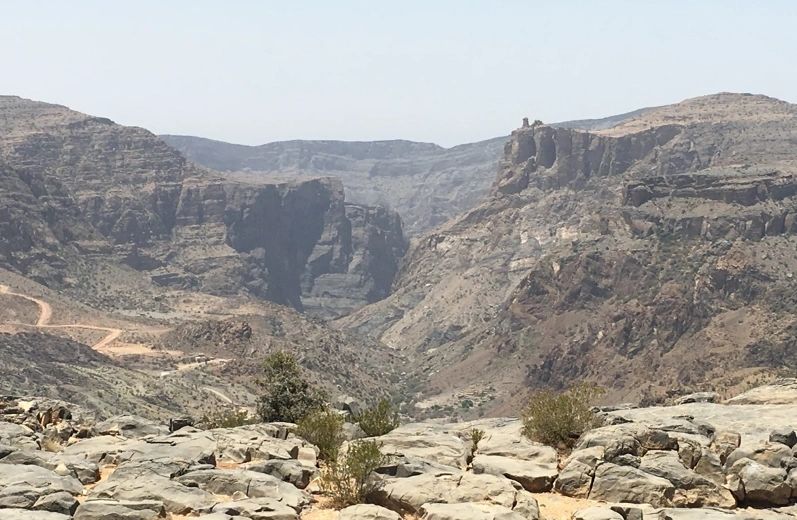 Where to stay
Anantara Jabel Akhdar Resort ***** (Wheelchair Accessible)
Anantara Al Jabal Al Akhdar Resort, the highest five-star multi award winning resort in the middle east on the curving rim of a great canyon, is a secluded haven for the intrepid and discerning. The resort features panoramic views from the cliff-edge infinity pool.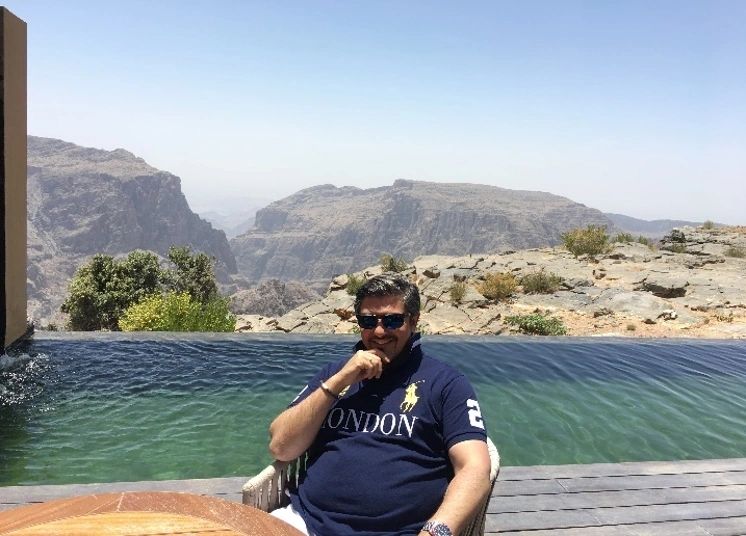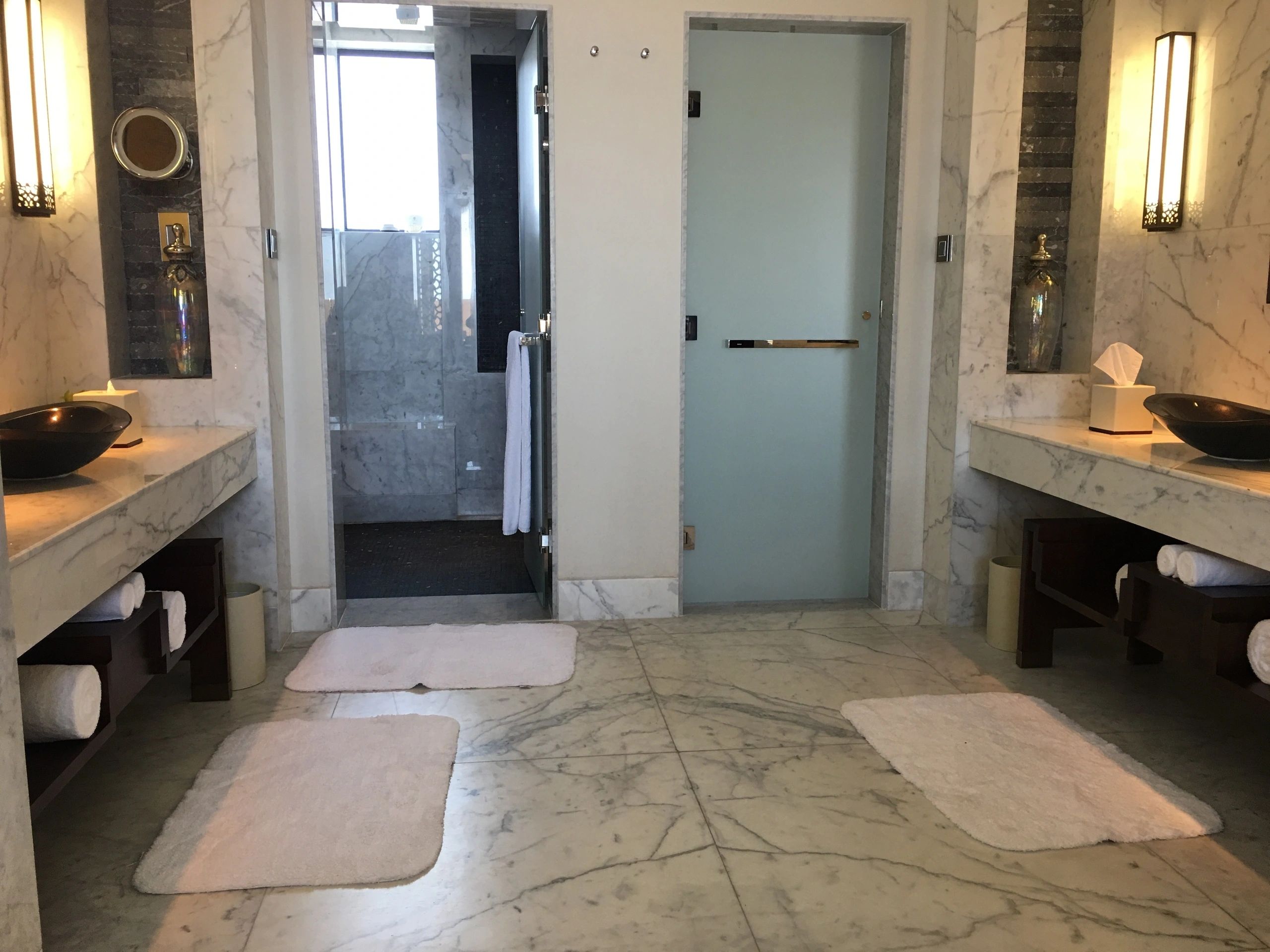 Jebel Shams meaning "The Mountain of Sun", is another impressive mountain in the Al Hajar range in the Al Dakhliya region. It is the highest point of the mountain range, and it is believed to be the first point where the sun rises, which is what inspired its name. The mountain has great hiking trails, as well as spectacular views of the region from its top.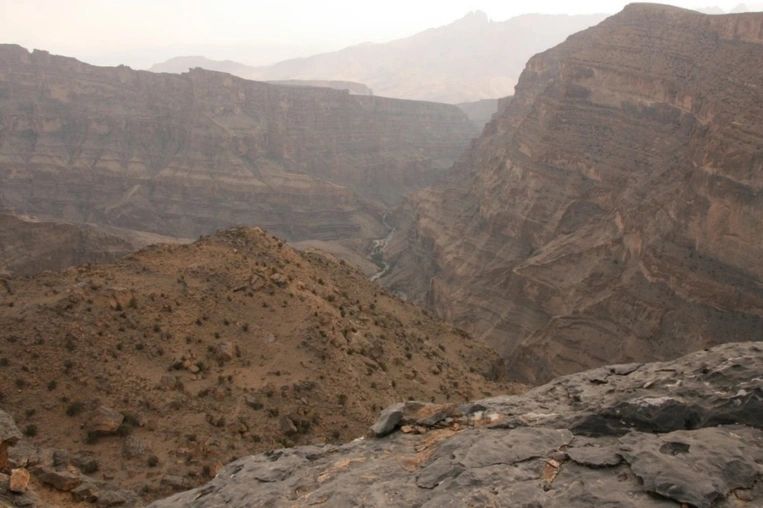 Masirah Island is the biggest island in Oman and is located in the eastern coast of the country. With its rocky interior of palm oases and gorgeous rim of sandy beaches, Masirah is the typical desert island. Used variously as a staging post for trade in the Indian Ocean and as home to fishermen attracted by the rich catches of kingfish, lobster and prawn, Masirah is home to flamingos and herons that patrol the coast by day and armies of ghost crabs that march ashore at night. The island is justifiably fabled as a naturalist's paradise.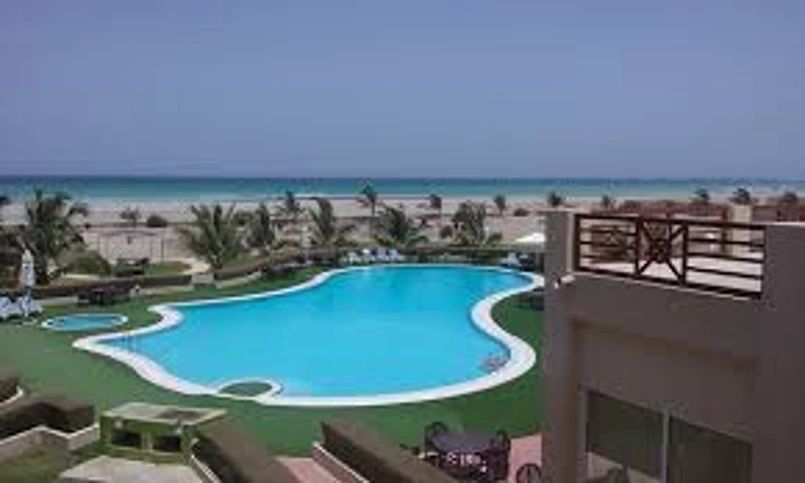 Is the second largest cave chamber in the whole world. It is located around 1,380 meters above sea level and can only be entered through few holes at the top of the cave. It is the perfect destination for climbing and hiking adventurers and a great place for taking pictures of the unique rocky formations and the cave's interior.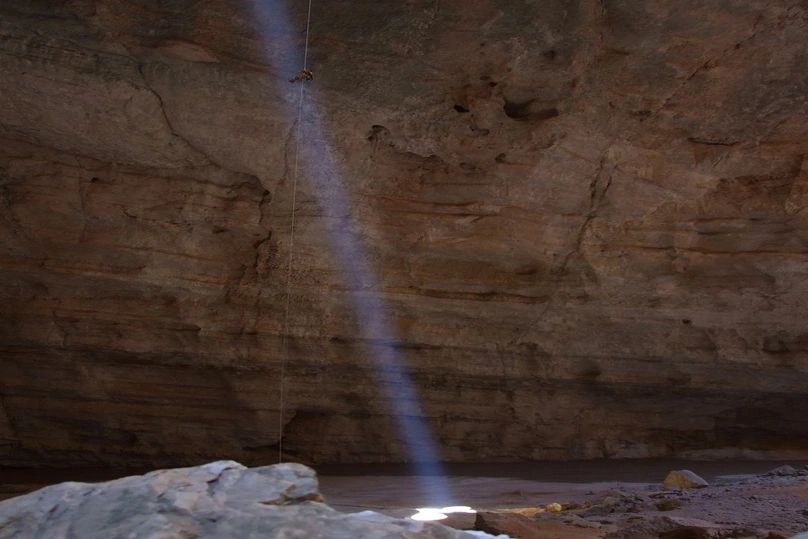 Bimmah or Dabab sinkhole is located in eastern Oman near Muscat. It was formed due to the dissolution of lower layers of limestones that caused the surface layer to collapse creating this big hole. It is famous for its crystal turquoise waters as well as the rocky formations that surrounds it. This amazingly beautiful sinkhole is a must-visit attraction in Oman.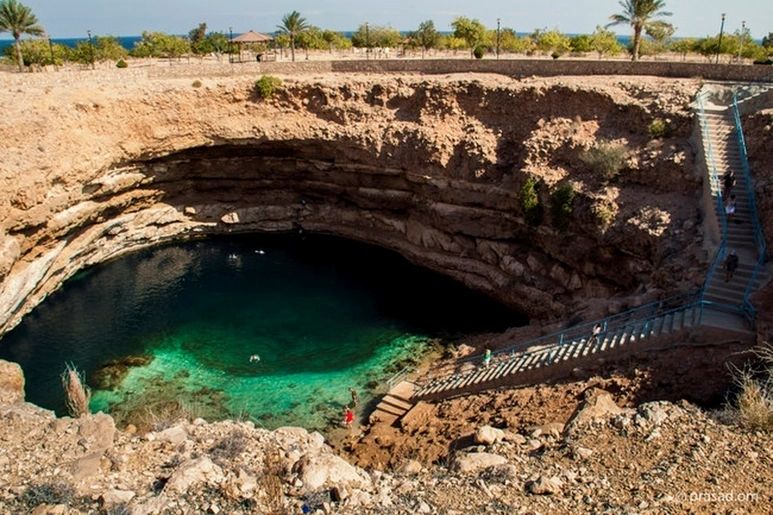 Sur is the capital city of the Al Sharqiyah region in north-eastern Oman at 210Km driving from Muscat (2hrs 30min). It has amazing beaches, and was an important destination for sailors historically, which was why it was famous for constructing dhow, a traditional Arab boat built in wood. Sur has a truly stunning corniche, two ancient forts, and a natural turtle reserve, which makes it a perfect destination for the lovers of Omani natural and architectural beauty.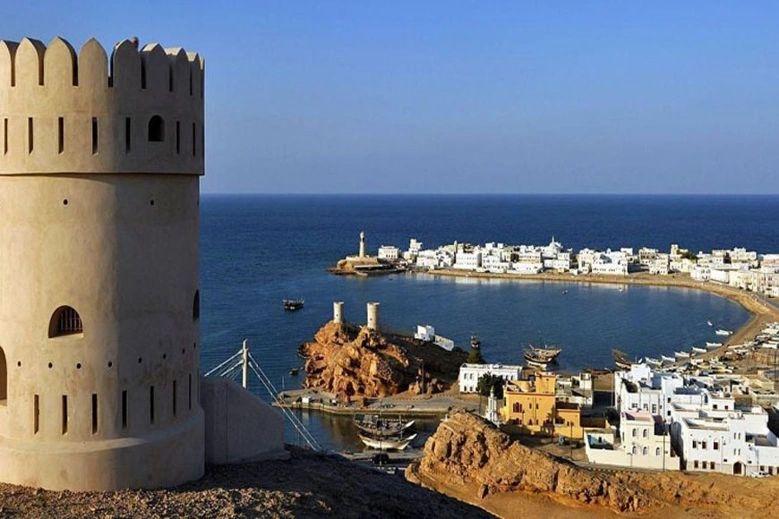 In Wahiba Sands, on the way to Sur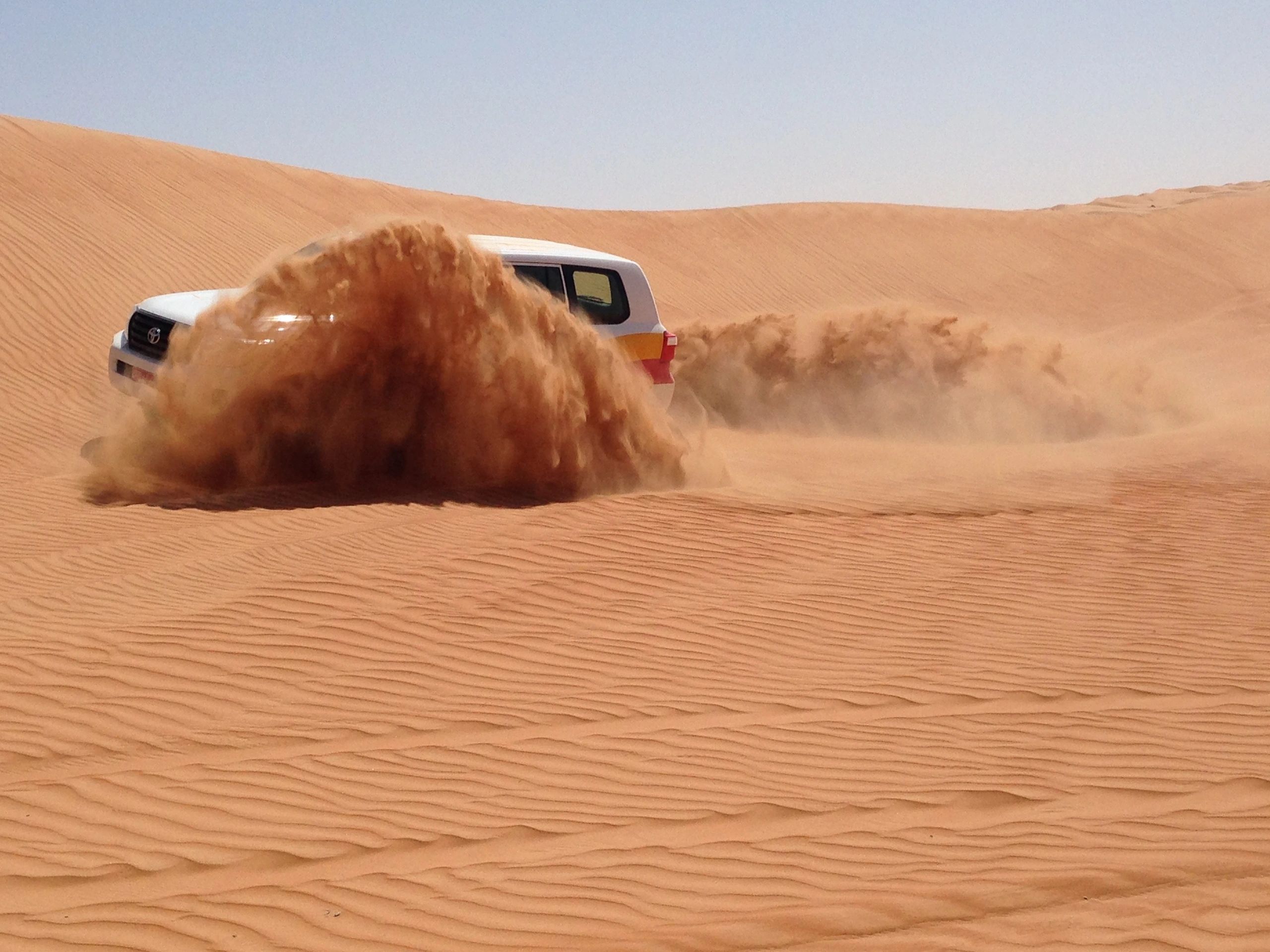 In Wahiba Sands, on the way to Sur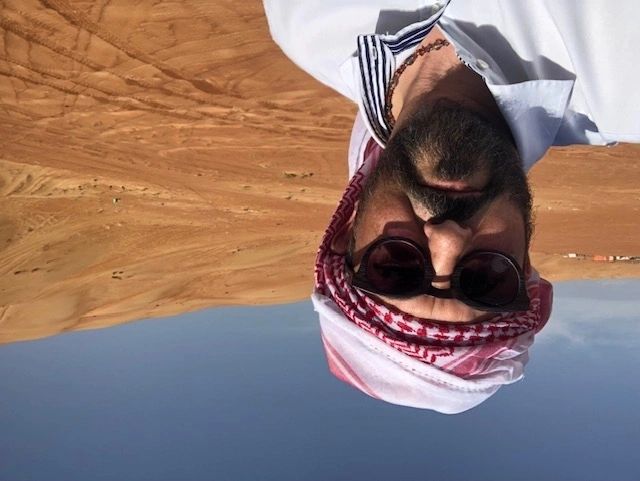 Salalah
Salalah is a beautiful city located in the Dhofar Region in southern Oman approximately 1000Km from Muscat, 10hrs drive and 1hr 45min by flight. It is famous for its Khareef (Monsoon) which lasts from July to September every year, clothed in lush greenery and its hills surrounded by white fog and light rains drizzle to cool the air. During this time, Salalah its frequented by many visitors, especially from Oman and the neighbouring countries. Salalah Tourism Festival takes place from 15 July to 31 August every year.
Thanks to the incense trade, fame and wealth were brought to Salalah in ancient times. Frankincense has been produced here for many centuries and it is still the case, although nowadays, it has lost most of its importance. This loss of significance went hand in hand with Salalah's decline. In the past years, efforts were made to catch up with modern development by upgrading its industrial port. Efforts have also been made to promote and give a boost to tourism.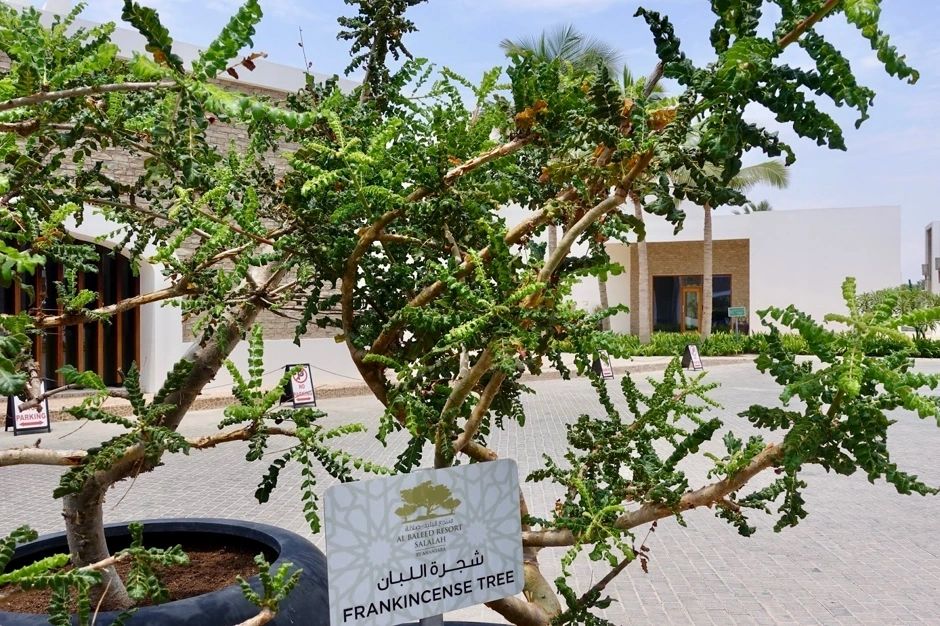 Climate and best time to go
Salalah boasts a micro-climate. Although having a hot desert climate, its summers are cooler than in the north of Oman and in the neighboring countries of the Arabian Peninsula. This is due to the so-called phenomenon of khareef. The region is touched by monsoon winds between June and September and the temperatures drop to "cooler" 25 degrees Celsius. It rains almost every day and the landscape transforms from desert in a lush green environment. During the rest of the year, it is hot in Salalah although temperatures seldom go over 40 degrees Celsius.
While June to September here are popular for Middle Eastern tourists (when the temperatures are soaring in their countries), Australians and "beach vacation makers" will usually not appreciate these conditions. The perfect time for a visit for Australians is from October to April.
How to get there
Salalah can be reached by car from Muscat in about 10 hours (1,050 km), but I would caution doing that as the drive is supposed to be scenic only on the section between Muscat and Nizwa. Afterwards it seems to be rather flat and boring, the road and horizon appearing to form one never ending continuous mirage. The best way to get to Salalah is by plane, Oman Air flies from Muscat to Salalah 11 times per day, depending on the season (during Khareef there are more flights) the flight time is about 1hrs and 45min.
Getting around
If you want to explore Salalah's surroundings, a rental car is essential as there is very little public transport available. There is an extensive and ever-expanding network of modern roads in Salalah at your disposal.
Activities
As mentioned before, many Arabian tourists pay Salalah a visit during the khareef season from June to September. During this time, the khareef festival is also run to celebrate this spectacular season, featuring traditional performances alongside stalls selling Omani handicrafts and typical food.
From October to April, Australian's and European's especially come to Salalah to make use of the beautiful white sandy beaches. While there is a focus on beach vacations, an increasing number of tourists also makes day trips in the immediate surroundings. Whereas the city of Salalah does not have abundant places of interest, there are several worthwhile things to do nearby, for nature lovers as well as for people interested in culture.
Where to stay
Before going into any activities, here my recommendation where to stay in Salalah as a disabled or discerning traveler.
Al Baleed Resort Salalah by Anantara***** (Wheelchair Accessible)
This is the one and only place to stay for travelers seeking luxurious accommodation, this resort opened in 2016 and has won numerous awards. The resort is located between the beautiful white beach and a lagoon at the city's east end, bordering the Al Baleed archaeological site. The setting is great, near the city center yet secluded enough to be considered as peaceful beach destination. It can be reached in a 20-minute drive from Salalah Airport.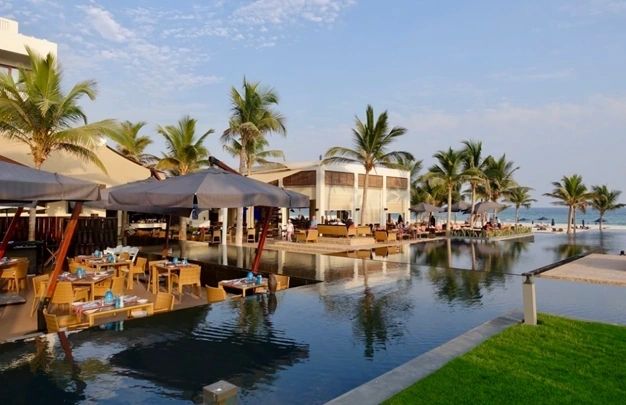 Hilton Salalah Resort ***** (Wheelchair Accessible)
The Hilton Salalah Resort overlooks the Indian Ocean in Salalah. Breakfast is served by the temperature-controlled pool and bonfire dinners on the white sandy beach.
Combining modern amenities with traditional Omani features, rooms at Hilton Salalah Resort suggest understated elegance.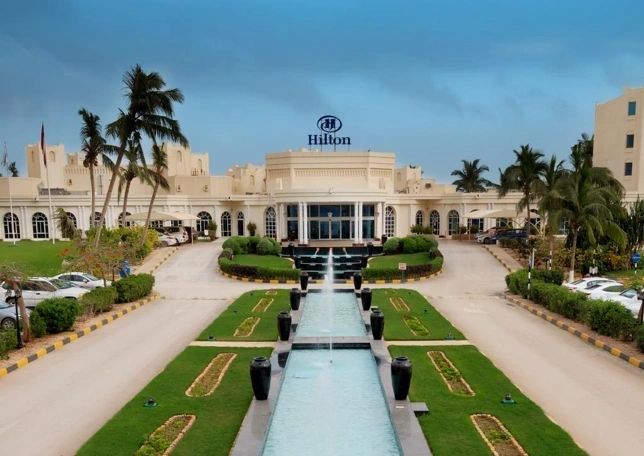 Millennium Resort Salalah ***** (Wheelchair Accessible)
Millennium Salalah is a unique and city hotel resort concept, situated in Al Saada area north of Salalah, just a few Km from the Beach and the mountains. The Hotel has 285 elegantly appointed rooms, suites, apartments, chalets and villas, overlooking the city, Mountain and even the sea.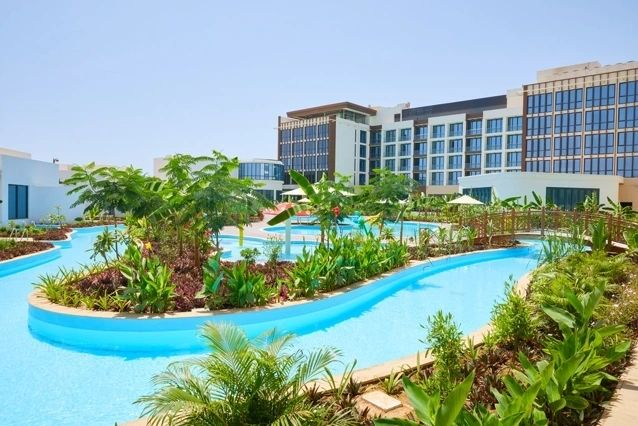 Apart from the mentioned archaeological site, the city of Salalah does not have many sights. Notwithstanding that, a short city tour provides the much-needed sense of place. While Al Baleed Archaeological Park can be visited via free shuttle bus from Al Baleed Resort Salalah by Anantara, please note that the park cannot be accessed with a wheelchair. You need a car to explore the city.
Make a stroll through Haffa Souq right adjacent to the Al Hosn Palace, a traditional market where the famous Salalah frankincense is sold amongst other things. Try the Arabic perfumes made with frankincense, they have a unique fragrance. Accessible with wheelchair.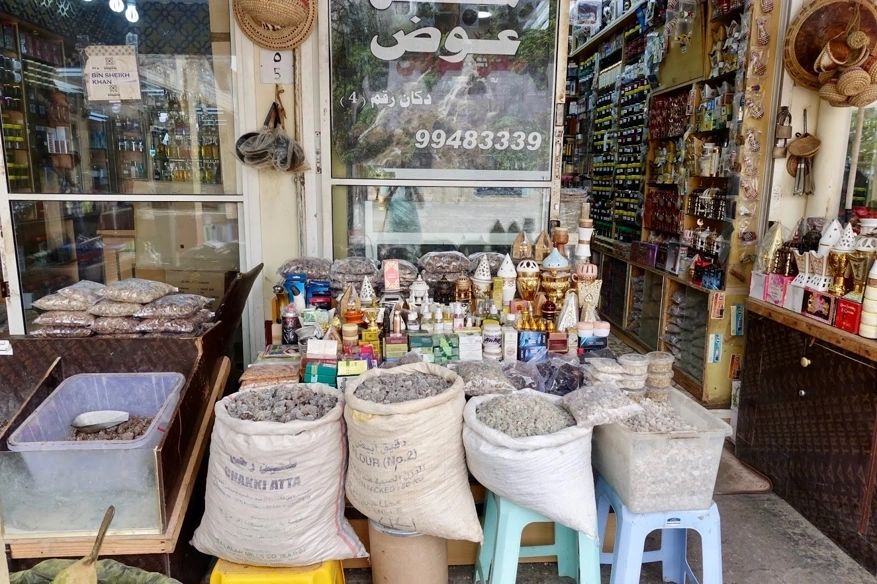 At the city's east end – about a 15-minute drive from the mosque – there is one of Salalah's most beautiful beaches, Ad Dahariz Beach, which is very popular among locals. You find here a (lighted) walkway, gazebos and an array of coconut trees. Accessible with wheelchair.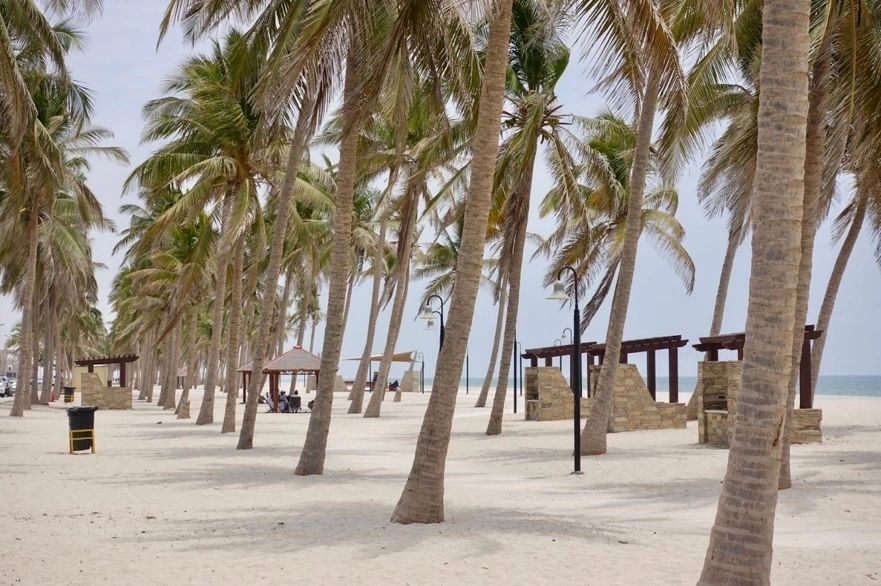 Taqah, a fishing village, with a small beautiful fort which is indeed worth a visit. Not accessible with wheelchair.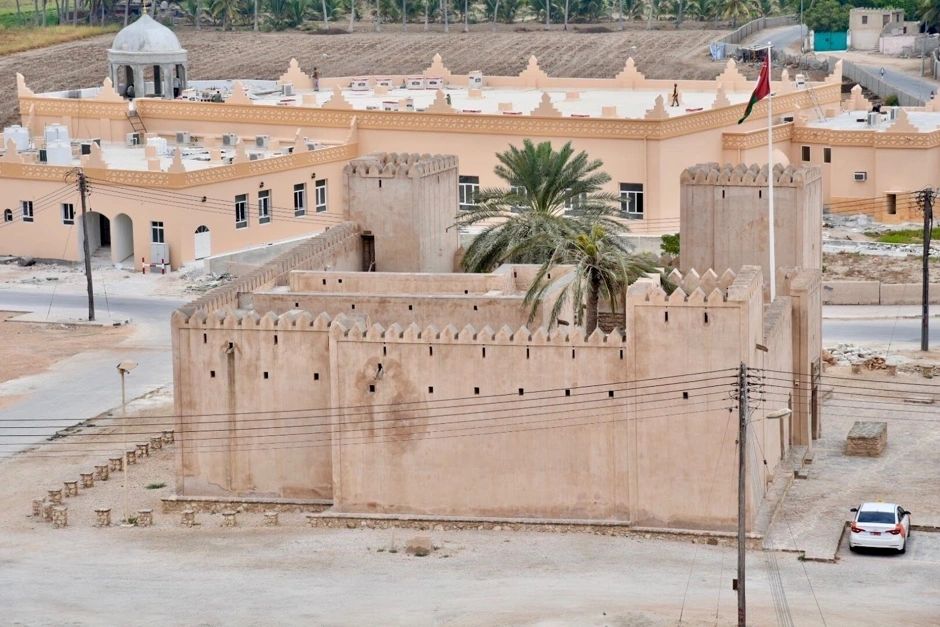 Wadi Darbat – (Darbat Valley) is the most beautiful and scenic spot for the nature lovers in the Dhofar Region. This amazing valley offers everything that is needed for a memorable day. A visit to Salalah is not complete without a visit to Wadi Darbat. This valley is among the top 2 places visited by the travellers to Salalah. This place is not accessible with wheelchair.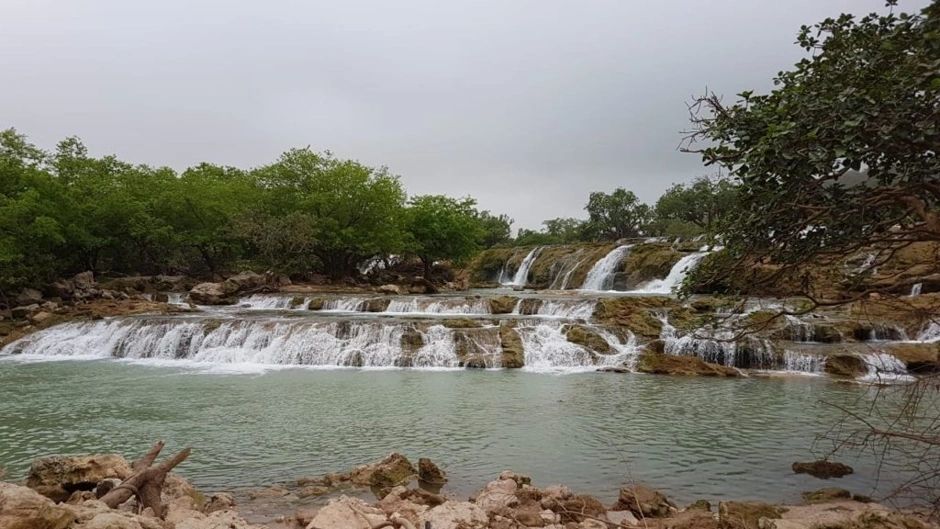 Camels are a common sight almost everywhere in Salalah. If you drive, please slow down to let them pass the road.
This wraps up my blog about beautiful Oman, the best kept secret of the Arabian peninsula, a place that will easily captivate anyone. Whether you are disable or not, Oman is a destination for everyone, you will see places that you will not see anywhere else in the area and for the disabled and special like myself, I say don't be concerned about the limited accessibility, you are still able to see enough to remain enchanted by Oman, so don't hold back, visit this wonderful country as soon as you can and continue your stray nomad adventure.
With much love
Your Stray Nomad where is oman muscat oman