UK Lifts All Covid Testing Requirements For Vaccinated Travellers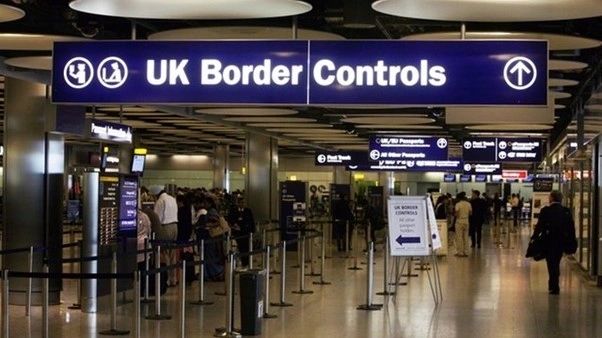 Travellers who have received at least two doses of an approved coronavirus vaccine are now just required to fill out a passenger locator form before travelling to the United Kingdom.
Travellers who have been vaccinated against the coronavirus Covid-19 can now enter the United Kingdom without undergoing any coronavirus testing.
Only a passenger locator form is required for British citizens and tourists who have received two doses of an approved vaccine. Unvaccinated travellers no longer need to isolate themselves until they receive a negative test result; they must still take tests before and after their arrival.
Transport Secretary Grant Shapps said the UK "now has one of the most free-flowing borders in the world, sending a clear message that we are open for business."
After two years of severe restrictions on travel, airlines and other travel businesses hailed the development as a lifeline. There was "a significant pent-up demand for overseas travel," says Andrew Flintham, general director of Tui UK, and people were hurrying to book holidays for the February school break and April's Easter break.
For the first time since June 2020, the second terminal at Gatwick Airport, London's second busiest, will reopen next month.
For the first time since June 2020, the second terminal at Gatwick Airport, London's second busiest, will reopen next month.
British Airways boss Sean Doyle urged other countries to take the "pragmatic approach" of the United Kingdom.
It's not just scientists that are concerned about the government's pace. Last month, the Conservative government led by Prime Minister Boris Johnson repealed most domestic rules. There are no rules requiring people to wear masks inside most public buildings in England, and vaccine passports are no longer required for entry into nightclubs and large-scale events. The government also no longer recommends that people work from home. Most limitations have also been lifted in Scotland, Wales, and Northern Ireland.
As part of a long-term plan to live with Covid-19, Johnson announced this week that he expects to relax the final restriction – obligatory self-isolation for anyone who tests positive — by the end of February. Officials have stated that the government intends to shift from legal limitations to advisory measures when the coronavirus becomes endemic.
Scientists were taken aback by Johnson's announcement. According to Tim Spector, an epidemiologist at Kings College London, it was "more of a political type of statement than a scientific one."
"There is some rationale to this, and other countries are doing things similarly, but it's a race for the government to say that 'Britain is. First, Britain is the first to come out of this, Britain has conquered omicron, our booster program is world-beating etc., etc.,'" he told Times Radio.
Despite an omicron-driven downturn at the end of the year, the UK economy grew by a larger-than-expected 7.5 percent in 2021. In December, the reintroduction of some restrictions in reaction to the highly transmissible variant resulted in a 0.2 percent contraction.
According to the Office for National Statistics, the growth follows a 9.4 percent contraction in 2020, when the pandemic shut down large portions of the economy. The UK economy has finally returned to the size it had in February 2020, just before the new coronavirus swept the country.
With over 159,000 officially confirmed deaths, Britain has Europe's most significant coronavirus toll after Russia. Since the peak of the omicron rise in early January, the country has seen a reduction in new infections and Covid-19 patients admitted to hospitals.
Officials credit the government's booster jab programme for keeping the omicron outbreak from causing significant stress in UK hospitals. In the United Kingdom, 84.6 percent of persons aged 12 and up have had two vaccination doses, with over two-thirds receiving a third booster shot.
This is good news also for Australia as last week our PM announced that it would open the borders to all international visitors on 21 February. British Airways will resume its daily London-Sydney flights almost two years after the airline was forced to suspend its service after Singapore's Changi Airport banned transit passengers during the pandemic's early days.